1. Introduction
Pioneer turns out to be a pioneer once again in the optical storage market with the release of the new BDC-202 (OEM) or BDC-S02 (retail) drive. Being among the first manufacturers to have released a Blu-Ray burner, the Japanese company decided to incorporate the Blu-Ray playback capabilities of the high-end Blu-Ray drives, onto a SATA DVD burner. The BDC-202 is the first DVD Burner that offers BD-ROM/R/RE reading support, providing users with a cost-effective option when it comes to experiencing Blu-ray entertainment on their home PC.
The IDE drive supports Blu-Ray reading at 5x, as well as BD-ROM DL at 2x. The writing speed remains at 12x for DVD+R/-R, 4x for DVD-R DL/+R DL and 5x for DVD-RAMs.
- Drive Features & Specification
| Media | Read Speed | Write Speed |
| --- | --- | --- |
| BD-ROM / R / RE (Single Layer) | 5x | |
| BD-ROM DL /R DL / RE DL (Dual Layer) | 2x | - |
| DVD-ROM (Single Layer) | 12x | - |
| DVD-ROM DL (Dual Layer) | 8x | - |
| DVD-R/+R | 12x | 12x |
| DVD-RW/+RW | 8x | 6x |
| DVD-R DL (Dual Layer) / +R DL (Double Layer) | 8x | 4x |
| DVD-RAM | 5x | 5x |
| DVD Video with CSS (Single Layer / Dual Layer) | 5x | - |
| CD-ROM and CD-R | 32x | 24x |
| CD-RW | 24x | 24x |
| Video CD | 9.3x | - |
| CD-DA, CD-Text, Mixed-CD,CD-Extra (play audio) | 9.3x | - |
| CD-DA, CD-Text, Mixed-CD, CD-Extra (Data extraction) | 24x | - |
- Additional Specs Include:
Buffer Memory Size: 4MB (Buffer Under Run Protection for DVD and CD)
Atapi interface: Serial ATA Revision 1.0
Data Transfer Mode: Gen1i, 1,5Gbits/sec
Audio Interface: Stereo audio output
Dimensions: W=148 x D=185 x H=42.3mm (including front bezel)
Net Weight: 0.98 k
For testing in our labs, we received a Pre-production sample of the Pioneer BDC-202. This does not in any way mean that our drive lacks any features compared to the final, production model - it just indicates that there might be room for performance improvements before the product reaches the store shelves.
The retail version of the drive, will be available in both black and beige. Our sample (photo below) was manufactured in April of 2007. On the drive's front panel, we can see the BD-ROM DVD/CD Writer logo, as well as the "Blu-Ray disc", "DVD+RW" and "DVD Multi Recorder" official logos.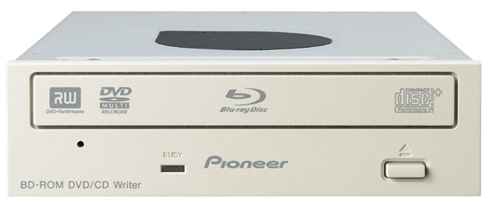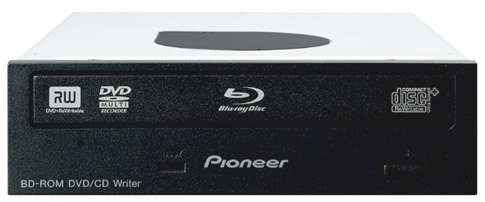 Let's take a look at the internal components of the drive. Note that opening the drive case voids the warranty and should be avoided.
The "heart" of the drive is the RENESAS R8J32500FPV chip.
- Nero Info Tool