3. Performance
For our tests, we used a Toshiba 100GB 2.5" hard disk drive, which we installed in two different enclosures, the Muse and the NexStar from Vantec. We wanted to see if there was going to be any difference in performance. To do this, we used PCMark 2005 and HDTach.
- PCMark 2005
PCMark05 is an application-based benchmarks and a premium tool for measuring overall PC performance. It uses portions of real applications instead of including very large applications or using specifically created code. This allows PCMark05 to be a smaller installation as well as to report very accurate results. As far as possible, PCMark05 uses public domain applications whose source code can be freely examined by any user.
PCMark05 includes 4 categorized suites for benchmarking your computer. These include CPU, Graphics, Memory and a Hard Disk Drive benchmark. In our case, we selected only the Hard Disk Drive benchmark.
| | | |
| --- | --- | --- |
| HDD Test Suite | Muse | NextStar |
| XP Startup (MB/sec) | 5.972 | 5.716 |
| Application Loading (MB/sec) | 4.925 | 4.768 |
| General Usage (MB/sec) | 3.983 | 3.879 |
| Virus Scan (MB/sec) | 7.003 | 4.262 |
| File Write (MB/sec) | 24.640 | 21.628 |
As you can see, there is indeed a difference in performance between the two enclosures. No matter what the application was, our Toshiba HDD performed better inside the Thermaltake Muse.
- HDTach
HD Tach tests the sequential read, random access and interface burst speeds of your attached storage device (hard drive, flash drive, removable drive, etc). All drive technologies such as SCSI, IDE/ATA, 1394, USB, SATA and RAID are supported. Test results from HD Tach can be used to confirm manufacturer specs, analyze systems for proper performance as well as allow you to compare performance with others.
This benchmark is intended to determine the maximum read or write speed on the device at various locations. Hard drives, for example, have faster read/write speeds at the inside edge (mapped to block 0) of the device, so it is useful to see the difference in speed. The maximum sustained speed (lowest speed on the device) is an important metric for real time sequential access applications. The maximum speed may be important to a power user that would like to partition the drive into a high speed partition and low speed partition.
| | |
| --- | --- |
| Thermaltake Muse | |
| Vantec NextStar | |

Thermaltake Muse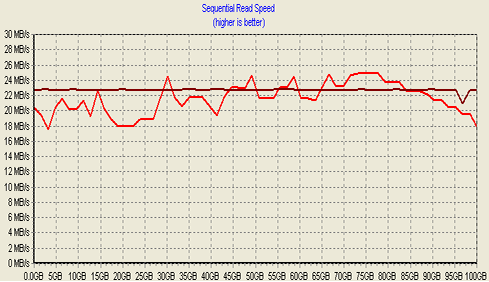 Vantec NextStar
HDTach also confirmed that there is better performance with the Muse... Higher in both read and write transfer rates, with a significant difference.