1. Introduction
Today we will be reviewing one of the two LG latest releases in External Recorder drives, the GSA-5169D. From our first encounter with the drive, it seemed like just another external device, with MultiReading/Writing capabilities, and the usual array of standard features. But the 5169D offers one more feature, OneTouch Recording, which enables the end user to capture videos directly to the media from AV supported devices. It should be noted that the 5169D cannot work as a stand alone video capture device and requires a PC in order for the feature to work.
Other than that, the drive is being a multi, offering 16X/16X burning speeds for DVD±R media, 8X/4X for DVD±R DL media, 8X/6X for DVD±RW media and the traditional 5X DVD-RAM writing and reading speed. Let's have a look at the full specifications...
- Specifications
| | |
| --- | --- |
| Model | LG GSA-5169D |
| Write/Read Speed | Write: DVD+R 16x / DVD+R DL 8x DVD-R 16x / DVD-R DL 4x DVD+RW 8x / DVD-RW 6x DVD-RAM 5x / CD-R 48 CD-RW 32x Read: (CD-ROM) Max 48x, (DVD-ROM) Max 16x |
| Data Transfer Rate | CD: 7,200KB/s DVD: 22.16 Mbytes/s |
| Access Time | CD: 120 ms, DVD-ROM 175ms, DVD-RAM 250ms |
| Buffer size | 2MB with buffer under run prevention technology |
| Loading Type | Motorized Tray |
| Interface type | USB 2.0 (requirement for AV capture), AV input |
| Write Method | (DVD-R/RW) Disk-at-Once, Incremental Recording Restricted Overwrite (DVD-RW only), (DVD+R) Sequential Recording, (DVD+R/-R DL) Sequential Recording, (DVD+RW/RAM) Random Write (CD-R/RW) Disk-at-Once, Track- at-Once, Session-at-Once, Packet Write |
| System Requirements | PU : Pentium III 800MHz of faster (or equivalent) (Recommended for optimal performance: P IV 2.4GHz) Pentium IV 1.6GHz or faster is required for AV capture RAM : 256MB or larger (Recommended: 512MB) HDD : 10GB (DVD±R DL : 16GB) or more space Video memory : 32MB(Recommended: 64MB) Direct X 9.0 or higher Interface: USB 2.0 |
| AV Capture | Receive Video(S-Video) and Audio analog signal Video Encoding Standard : MPEG-2, MPEG-1 Data Multiplexing : MPEG-2 (ISO/IEC 13818-1) Audio Compression : Read : MPEG-1,MPEG-2 Write : MPEG-1, MPEG-2, Layer-2 Video Type : NTSC / PAL Video Format : VCD / SVCD / DVD /AVI Supported Capture Recording disc : CDR, CD-RW (VCD/ SVCD), DVD±R, DVD±RW, DVD±R DL (DVD) |
| WxDxH (mm) | 160 x 230 x 50(mm) |
| Weight (kg) | 1370g +/- 30g (net) |
| OS Compatibility | Windows XP Home & Prof. (SP1. SP2) |
Below are the drive's main specs as given by NeroInfoTool, DVDInfoPro and VSO inspector:
- Retail package
The retail package contains everything for the average user to get started. So, apart from the Nero OEM suite and Cyberlink applications, there's an extra CD with the OneTouch software. Note here, that the box, apart from the USB and Power Supply cables, does not contain any other cables, so don't expect to find Audio-Video-SVideo cables bundled. You'll have to buy these cables separately.
-The Drive
The front bezel is divided into two sections. The upper (tray) features the Super Multi logo, +RDL logo, LG trademark and DVD Multi logo. The lower section has the eject button (far right), the emergency eject hole, the activity LED and the OneTouch button (far left).
Now, this is one rear panel that we don't see all that often. As you can clearly see, it features the left and right audio outputs, composite video output and S-Video output. The interface with the PC is through the USB 2.0 connection, located next to the power supply input jack.
- Installation
The drive was installed under WindowsXP and was recognized as "HL-DT-ST DVDRRW GSA-5169D ". The drive came with the default firmware installed and since no further firmware releases had been issued, we moved straight on to the tests.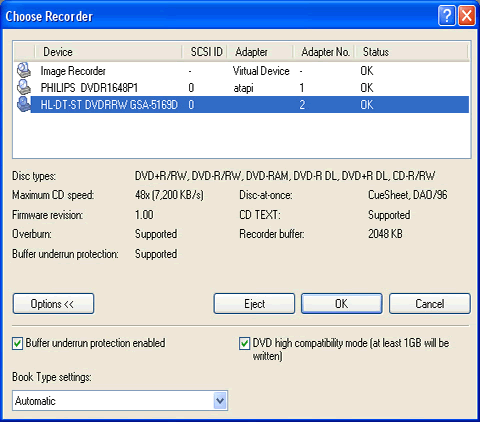 For the needs of this review, we will be comparing the results of the 5169D along with those of the Samsung SE-W164C and LiteOn 1653S Xternal drives. Now let's move on to the next page and investigate the reading capabilities of the drive with CD and DVD media, as well as the video ripping capabilities.