1. Introduction
Thermaltake is one of the better known manufacturers of PC cooling solutions and PC case modding, among other things. Even though the company was founded in the late 90's, it has managed to become one of the top brand names in cooling solutions with a range of products that provide cures for "thermal" problems.
For this review, we received Thermaltake's metallic enclosure for 2.5" hard disk drives, called the Muse.
It is of aluminium construction with a polished metal finish and black mirror coating...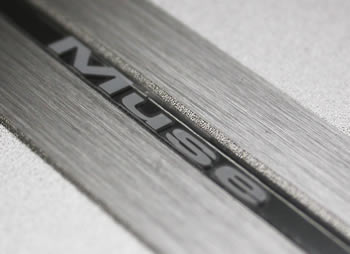 Features
- All aluminum fanless design
- Silver with clean appearance
- Screwless design, easy to install 2.5" H.D.D. without tools
- Blue LED to indicate digital signal
- Cypress AT2+ chip - for speed & stability
- IDE to USB2.0 interface - greater compatibility
- USB Y-cable supports signal & power, no power adapter required
- Transfer speeds up to 480Mbps
Specifications
Model
A2291
Case Type
2.5" H.D.D.
Weight
155 g
Dimension
130 x 82.4 x 19.8 mm (H x W x D)
Material
Aluminum
Interface
IDE to USB 2.0
ATA Compatibility
ATA6
PCBA Chip
Cypress AT2+
Transfer Rate
USB 2.0 - 480 Mbps
Operating System
Windows SE/ 2000/ XP; Mac OS 9.x and up
Drive Bay Kits
- USB 2.0 external Y-cable
- Leather case
The retail package includes the following:
The Muse inside its leather case...