1. Introduction
Thermaltake (Tt) is well known in the market and end users for their quality Cooling Solutions and extreme PC cases. Although these products would be enough to please any end user, Tt has taken some steps toward other devices, and has established a very strong market for them as well. Today, we will be reviewing a Tt enclosure product, an external case, that serves as an Interface IDE to USB2.0 medium, where both Hard and Optical drives can be installed and put to use right away.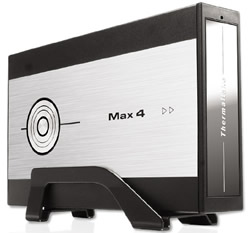 This product comes from the Max4 series, the 5.25 DVD enclosure in specific. Note here, that even though this enclosure is meant for DVD usage (one can install a DVD-ROM, RW device, or even a CD-ROM device, all in the 5.25 scale), the case can also host an internal HDD drive. So, we have an extra function in favor of the end user, who can change and use the enclosure to suit his needs.
Having said that, let us move on to the Specifications and Features of the MAX4 5.25 enclosure.
- Specifications
According to Thermaltake, the Transfer Rate of the MAX4 USB2.0 device is up to 480Mbps.
Model
A2296
Case Type
5.25" DVD
& 3.5" drives
Net Weight
1258g
Dimension
270x175x55mm (H*W*D)
Material
Aluminum & Plastic
Interface
IDE to USB2.0
ATA compatibility
ATA/ATAPI6
PCBA Chip
Cypress AT2+
Transfer Rate
USB2.0: 480Mbps
Operating System
Windows SE, ME, 2000, and XP
Mac OS 9.x and up
Accessories
USB2.0 External cable
Power Adapter
Metal Foot Stand
- Features
What follows is a complete list of the features supported by the Max4 5.25 enclosure.
- Application for 5.25" DVD Player
- Aluminum spreader fanless design
- Silver body with graceful black adorn
- Metal homocentric polished diagram
- Blue LED indicate data transfer signal
- Cypress AT2+ chip - speed & protect your digital data
- IDE to USB2.0 interface - the most compatibility
- Compact mount easily to stand
- Transfer speed up to 480Mbps
The Max4 5.25 retail package, includes a power adapter and power supply cable, a USB cable and a CD that contains the installation drivers. The manual comes both in digital form as well as in booklet. Note, that the installation cd under WinXP is not needed, as the device is plug'n'play enabled.
The components of the Max4 5.25 enclosure...
Now that we've covered the basics, lets move to the next page and the case itself.