Thermaltake Armor A60 Case review
3. Conclusion
Let's sum up this brief article with some thoughts on the Thermaltake Armor A60 case.
First of all, the case has been carefully designed both internally and externally, with the the paint work to be first class belying the budget pricing. There are not any rough edges or patchy sections internally, or any sharp filing on a few of the metal edges.
Thermaltake has also designed the cooling system of the case with great respect to the efficiency but also acoustics. The three fans work in a push/pull airflow methodology and you have room to add 4 more. The high- quality fans are spinning quietly and their airflow is sufficient enough to keep the internal components as cool as you may expect from a $90 PC case.
Connectivity is also excellent as the case is offering eSATA, headphones, USB 2.0 and even USB 3.0. There is a side button to remove a primary hard drive and you can add plenty more into the spacious drive area. The Thermaltake Armor A60 also comes with a great side mounted hot-swap bay for both 3.5" and 2.5" drives.
With an almost tool less interior, installing components is easy and hassle free. Although there is some space below the motherboard to hide the wires, we would like to have a better way to route the wiring, especially you don't use a modular power supply.
What we didn't like is the fact that the case's thin metal tends to rattle, and also the also that the the drive bay locking trays feel a a little bit cheap and delicate.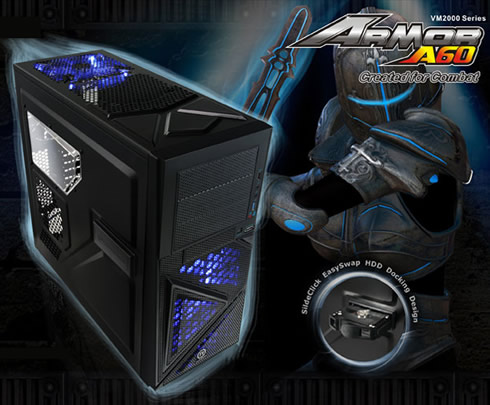 To sum up, we feel that the Thermaltake Armor A60 lives up to the company's fine record of quality construction and overall builder friendliness. The A60's foray into that area and its USB 3.0 support make it a more forward-thinking than other cases available today and it generally provides a great cost/benefit ratio for users that have USD 90 to spend on a computer case.
Pros
Great looking
Quiet 200mm and 120mm LED fans
Compact in size but with great space inside
Small on the outside, big on the inside
Hot swappable drive bay
USB 3.0 front port
Screwless mechanisms for 5.25" and internal 3.5" drives
Hole in the motherboard tray allows you to access the backplate of the CPU cooler
Cons:
Thin SECC metal used throughout
No anti-vibration mechanism for the hard disk drives
Delicate drive bay locking trays