Thermaltake Armor A60 Case review
1. Basic features
We have in our labs the Thermaltake ARMOR A60 chassis, a middle tower case featuring the SideClick EasySwap HDD docking and integrated USB 3.0 connector on the front side.
With the ARMOR A60 chassis Thermaltake is adding yet another member to the ARMOR series of chassis, which are set themselves apart from the crowd by virtue of their design approach. The entirely black "bulletproof" armor design with metal mesh elements lend the ARMOR series a stylish and powerful appearance that attracts gamers and enthusiasts alike, while the top and front blue LED-fans enhance the overall combat ambience.

Thermaltake's SideClick EassySwap design in the left side panel of the ARMOR A60 offers easy access to removable hot-swap capable 3.5" hard drives. You simply place your HDD (SATA, SATA 2, SATA 3) in the drive tray, slide it into the SlideClick slot till a tiny "click" let's you feel that the drive is connected.
Optimized multimedia connectivity is provided for by one USB 3.0 and one USB 2.0 port in the front panel of the case. An additional eSATA connector on the top makes convenient to connect your mobile storage device, while the HD microphone and headset connectors in the front offer you quick and short access.
The feet elevate the ARMOR A60 high enough as to allow for improved ventilation of the bottom based ATX PSII power supply. To avoid outside dust to find its way into your power supply a removable dust filter is positioned underneath, providing users with an easy way to keep it clean.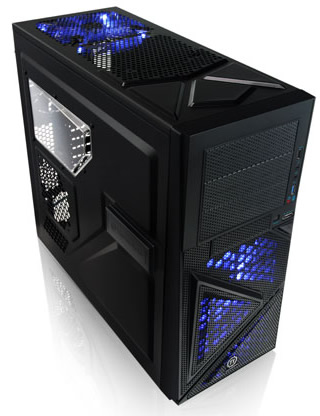 As characteristic for Thermaltake chassis, special attention had been paid to optimized ventilation and airflow. Therefore one 20 cm blue exhaust LED-fan on top and one 12 cm intake blue LED-fan in the front have already been pre-installed and increase the combat spirit with light-effects. One more 12 cm exhaust turbo fan on the backside top further increases air circulation. For power-users there are still four more options to install additional fans. And the geometric window right next to it let your graphics card shine and allows for a look at your hardware so you can quickly check if everything is in order.
HDD Air Cooling System

1. Front (intake):
120mm x 2 (one is optional), or 200mm x 1 (optional)
120 x 120 x 25 mm Blue LED fan, 1000rpm, 16dBA;
120 x 120 x 25 mm (optional) or
200 x 200 x 20 mm (optional)

CPU Air Cooling System

2. Top (exhaust):
200mm x 1 or 120mm x 2 (optional)
200 x 200 x 20 mm Blue LED fan, 800rpm, 15dBA or
Two 120 x 120 x 25 mm (optional)
3. Rear (exhaust):
120mm x 1
120 x 120 x 25 mm TurboFan, 1000rpm, 16dBA

VGA Air Cooling System

4. Side (intake):
120mm x 1 (optional)
120 x 120 mm fan (optional)
5. Bottom (intake):
120mm x 1 (optional)
120 x 120 mm fan (optional)
- Specifications
Model
VM20001W2Z
Case Type
Middle Tower
Dimension (H x W x D)
480.0 x 210.0 x 500.0 mm (18.9 x 8.3 x 19.7 inch)
Side Panel
Transparent Window
Color
Exterior & Interior: Black
Material
SECC
Cooling System
Front (Intake) :
120 x 120 x 25 mm Blue LED fan, 1000rpm, 16dBA;
120 x 120 x 25 mm (optional) or
200 x 200 x 20 mm (optional)
Rear (Exhaust) :
120 x 120 x 25 mm TurboFan, 1000rpm, 16dBA
Top (Exhaust) :
200 x 200 x 20 mm Blue LED fan, 800rpm, 15dBA;
Two 120 x 120 x 25 mm (optional)
Bottom (Intake) : 120 x 120 x 25 mm (optional)
Side (Intake) : 120 x 120 x 25 mm (optional)
Drive Bays
- Accessible : 5.25" x 3, 3.5" x 1
- Hidden : SideClick EasySwap 3.5" x 1, 3.5'' & 2.5" x 5
Expansion Slots
7
Motherboards
Micro ATX , Standard ATX
I/O Ports
USB3.0 x 1, USB2.0 x 1, eSATA connector x 1,
MIC & Speaker (support AC'97 & HD Audio)
PSU
Standard ATX PS2 (optional)
Net Weight
7.1 kg / 15.7 lb
Other
CPU cooler height limitation: 180mm
Graphic card length limitation: 305mm