Spire RocKeteer VI - SP-600W
2. A Closer Look
The power supply comes wrapped in protective bubble wrap. The size of the power supply, looks larger than normal.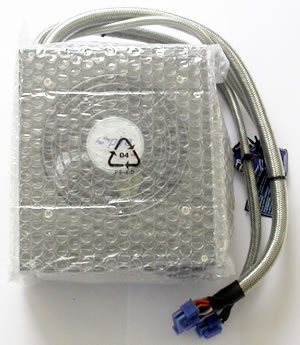 After we removed the wrapping, the dark grey titanium colored mirror finish is very flashy. The design, as well as the quality of the aluminium construction, is very good.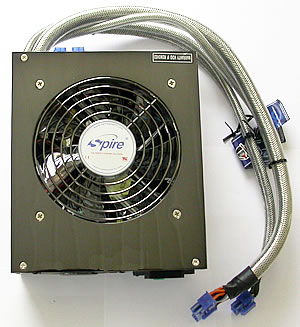 The two blue LED, dual ball bearing fans, give a great look to the PSU but their primary function is to keep it cool. The 12cm fan, on the underside of the PSU, draws air from the PC case and directs it to the 8cm at the back, where it is expelled. The 12cm fan starts up at 45°C and above, or if the Turbo Fan Switch is switched on
On the back panel, there are the power output connections and cables. Only the 20+4 pin and 4 pin 12V (for the motherboard) cables are attached to the PSU. The remaining cables can be attached to the eight, blue coloured connectors. This is very convenient, and has been adapted by many PSU manufacturers recently. It helps keep your PC case free of useless cables. You connect only those cables you need.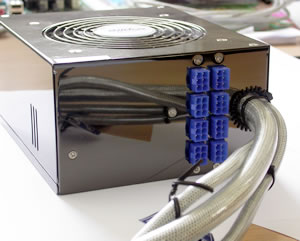 Below the 8cm fan at the back, there are the power input connection, the power switch and a button that activate the Turbo Fan. According to Spire, the fans are completely silent with 10.0 dBA at 45°C / 113°F, while under full load, the noise won't exceed 19.0 dBA Max.
Specifications regarding voltages and power output, can be found on the label on the side panel of the PSU.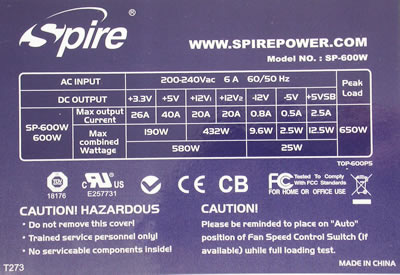 Let's install this pretty baby on our system...