Spire RocKeteer VI - SP-600W
5. Conclusion
The Rocketeer VI is a 600W PSU from Spire's new SLI series BTX / ATX Modular EZ-Cable Gaming power supplies. It is a power supply that is designed to fulfil the needs of the most demanding PC user. It has a great cooling system, with two fans, one 120mm fat on the underside and an 80mm fan at the back. Its dark grey titanium enclosure is of good construction and high quality.
The installation process was easy enough and no fiddling around or extra parts were required. And the best of all, you connect power output cables from the PSU as you need them. In other words, the number of cables you use, depends on the devices you have installed in your system. This makes for a tidier layout and also doesn't interfere with the airflow inside the PC case. But even if you use all of the provided cables, there is still no problem since the cables are nice and compact. Our only advice is take a little care with the connectors, as the plastic is a little fragile and we ended up breaking one of our SATA connectors. This is probably something that Spire should look into.
When it comes to performance, we have no complaints. Enough power to supply your hungry system, at voltage levels within the limits set out for ATX DC Output Voltage Regulation. The noise from the PSU is not noticeable, unless you manually activate the Turbo fan switch. The noise then becomes annoying, but the Turbo fan is really only required when the PSU goes above 45°C and kicks in automatically.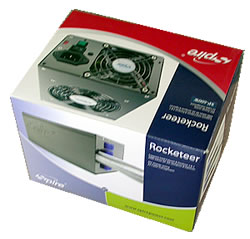 Overall, the Rocketeer VI 600W is a great solution and we would recommend it. When this review was being carried out, the price for the device on the e-market was around US$105, which is quite reasonable.