7. Basic DVD-RW tests
The installed optical disc drive comes from Toshiba/Samsung (TSST). The SN-S083A drive is capable of reading/writing all the CD and DVD formats, including DVD-RAM. The latest firmware for the drive is the SB01.
Looking into the media ID codes stored into the SB01 firmware we noticed several media ID codes for burning DVD±R media at 8X and DVD+R DL discs at 6X. Using the Media Code Speed Editor you can apply an RPC1 patch to the firmware and therefore make the drive region free.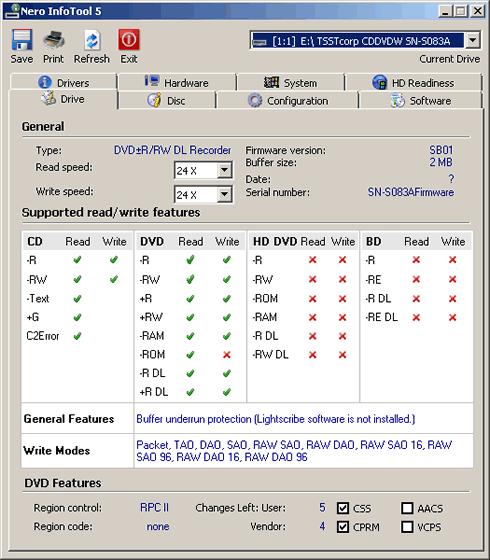 Let's make some quick tests now. Nero DiscSpeed will show us the writing strategy of the drive at the maximum supported speed for DVD+R/-R, the 8x . We used a Ritek R04 (16 DVD+R) disc:.
After around 11mins, we had our burning graph was ready (burning complete). The drive uses the P-CAV burning method, resulting to an average burning speed of 5.88X:
The disc was fully readable as you can see in the reading graph below. The average reading speed of 6.18X is high enough.
Some advanced features like Bitsetting and C2 error information are not present. Not a problem for the mainstream user though.