7. Final words
The Shuttle SH55J2 barebone supports Intel's Core i3/i5/i7 processors and it is really a great value for your money. Paring the box with an Intel i3-530 is a really smart and affordable choice for having internal graphics with HDMI 1.3 support! Moreover, the overall features and specifications of the box make it ideal for users who need to upgrade their system without spending a fortune for a new box.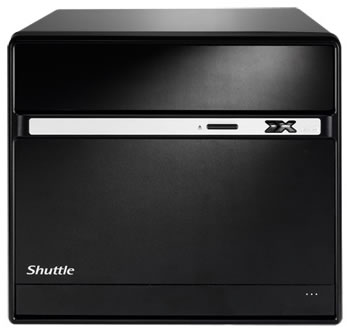 The SH55J2 is mainly made out of steel and this make it relatively heavy for its size but also keeps its retail price at low levels. The case can handle a dual slot external graphics cards without any problem and the included 300 Watt power supply unit should have enough juice to keep up with three internal storage devices. The device provides several inputs/outputs but we would like to see at least four USB 2.0 ports.
We also enjoyed the combo e-SATA/USB2.0 port and the 4-in-1 card reader found on the the front side of the box.
The system can work with up to 16GB of memory and that's a great feature that makes the difference compared to other barebones. In addition, even with all the components installed, there is free space left inside the box, allowing you to easily get all cables sorted for easy maintenance and also contributing to a more efficient ventilation of the system.
Passing to the performance, the system was solid rock under stock speeds and its internal fan was barely audible, meaning that Shuttle has done a good work with the acoustics. Users can "easily" overclock their processors provided that they know what they are doing. We managed to get an Intel Core i3-530 from 2.93GHz up to 3.64GHz under stock voltages and with the internal fan to spin moderately even at full load. The specific CPU and memory installed allowed us to push overclocking even more but the system turned out to unstable. Although the SH55J2 has not been designed for obverclocking, we hope that Shuttle will improve the BIOS features and optimize the system's overclocking performance.
To sum up, the Shuttle SH55J2 is a fairly priced barebone for what it offers: support for the Intel Core i3/i5/i7 processors, up to 16GB memory and decent overclocking performance. The box costs ~ €268 and if you are looking for a new SFF this should be a smart choice.
- Positive
Solid manufacturing quality
HDMI & VGA output support for dual monitor
eSATA-USB combo port into its front panel
Four memory banks with up to 16GB support
Support for three storage devices
Support for dual slot graphics card
Enough room space to keep CPU temperature low
Internal space is clean and tidy, you won't have problem installing all pieces together
Has extra PCI and PCI-E slots for easy upgrades
Shuttle offers expansion for WLAN/Serial ports but with additional cost
Good overclocking abilities
Installed 300Watt PSU with 80Plus Bronze rate
- Negative
Retail price may sound high for entry-level users
Steel case adds extra weight
It's dimensions make it ideal for office use, not HTPC

Only four (4) USB2.0 ports at the back
Not included USB2.0 bracket for extra USB2.0 ports at the back
Front plastic panel is clumpsy
Pre-installed SATA cables could be longer
Couldn't set DDR3-1600 under overclocking