1. Features, specs
Today we will examine Shuttle's latest proposal for all those who need a compact and stylish small factor system, the SH55J2. Designed to support Intel's highly overclockable LGA1156 processors, DDR3 memory and powered by the H55 chipset, the XPC Barebone SH55J2 combines performance with style. But first lets meet the SH55J2 main specifications.
The XPC Barebone SH55J2 boasts a J2 design, support for the latest processors with integrated graphics core and fast DDR3 memory . The Intel Core i7/i5/i3 processors based on Socket 1156 with high computing power and relatively low power consumption are suitable for Mini-PCs. Despite its compact dimensions it still manages to find space for a PCI-Express slot, DDR3 memory, HDMI interface, Gigabit LAN, 8-channel audio with S/PDIF out (optional) and an array of interfaces. The barebone is also equipped with an 80 Plus certified 300W power supply and an effective heatpipe cooling system for efficient thermals and stability.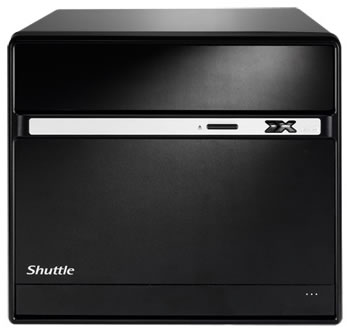 - Features
Intel H55 Express Chipset
The design of the Intel new Core i3/i5/i7 processors will eliminate the need for the traditional Northbridge found on previous generation of mainboards. Thus, the Shuttle SH55J2 sports Intel's H55 Express Platform Controller Hub(PCH) from the Intel 5 series "Ibexpeak" family, which will integrate the hard drive controller, network controllers, monitor physical interfaces, PCI controller and other input/output functionally.

Supports Dual-Slot Graphics Cards

With the space-efficient design, the SH55J2 is as roomy as it gets, maximizing the headroom for enthusiasts and power users to upgrade to the latest graphics cards. Despite the small housing, the SH55J2 is capable of running dual-slot (double-width) PCI Express graphics cards.

Built-in Intel HD Graphics Engine

The Intel Core i3/i5/i7 processors integrate the Intel HD Graphics engine which supports full 1080p high-definition video playback, including Bluray disc movies. It features Intel Clear Video Technology and the optimized 3D graphics engine supports DirectX 10, and delivers the performance and compatibility you need for entertaining.

eSATA-USB Combo Port
Shuttle SH55J2 incorporates an eSATA-USB combo port into its front panel. The combo port combines the convenience of USB power while supplies the high speed of eSATA. There is no additional power source required when connecting the eSATA-USB combo device and thus helps to save space and maximize flexibility.

Mini-ITX Motherboard Support
Shuttle expands the capabilities of its chassis, adding support for Mini-ITX motherboards(170 x 170mm or 6.7 x 6.7 inches). Now, the Shuttle chassis can go beyond the Shuttle motherboard. You can easily upgrade the motherboard to your desire.
Minimum of 80% Efficiency Guaranteed
The 80 PLUS performance specification requires power supplies in computers and servers to be 80% or greater energy efficient. This makes an 80 PLUS certified power supply up to 33% more efficient than current power supplies. 300W high efficiency & energy saving power supply of SH55J2 is guaranteed by 80 PLUS BRONZE certification.
- Full specifications
Chassis
J2-type chassis, color: black
Case cover made of aluminum, body made of steel
storage bays: 1 x 5.25" (external), 2 x 3.5" (internal)
Front door for I/O ports / card reader and optical drive
Kensington Security Slot at the back panel (also called a K-Slot
or Kensington lock) as a part of an anti-theft system
Dimensions: 33 x 21,5 x 19 cm (LWH), 13.5 litres
Weight: 7.0 kg net / 7.8 kg gross
Compatible with Mainboards in Shuttle or Mini-ITX Form Factor
Mainboard / Chipset
Shuttle FH55, Shuttle form factor, proprietary design for XPC SH55J2
Chipset: Intel® H55 Express (Codename: Ibex Peak, 65nm process)
Platform Controller Hub (PCH) as Single-Chip-Solution
BIOS
AMI BIOS, SPI Interface, 16MBit Flash-ROM
Supports PnP, ACPI 3.0
Supports boot up from external USB flash memory
Power supply
300 Watt mini PSU, AC input voltage: 100~240V
80 PLUS® certified (80% or greater energy-efficient)
Active PFC circuit (Power Factor Correction)
ATX main power connectors: 2x10 and 2x2 pins
Processor support
Socket 1156 supports Intel Core i3 / i5 / i7-8xx desktop processors
Supports Intel QuickPath Interconnect (QPI) at 4.8 and 6.4 GT/s
Supports maximum TDP = 95W (power consumption)
The Processor integrates PCI-Express and memory controller
and the graphics engine as an option.
Please refer to the support list for detailed processor support information.
Processor cooling
Shuttle I.C.E. (Integrated Cooling Engine)
advanced I.C.E. Heatpipe technology, linear controlled 92mm fan
SilentX cooling and noise reduction technology with Active Airflow
Memory support
4 x 240 pin slots
Supports DDR3-1066/1333 SDRAM memory (PC3-8500/10600)
Supports DDR3-1600 (PC3-12800) in overclocking mode
Supports 2+2 Dual Channel mode
Supports max. 4 GB per DIMM, maximum total size of 16 GB
Integrated Graphics
The Intel Core i3/i5 32nm Clarkdale processor integrates the
Intel® HD Graphics engine with Flexible Display Interface (FDI)
Resolution max. 1920 x 1200 (supports 720p, 1080i und 1080p)
Shared Memory: up to 768MB
Decodes MPEG-2, H.264 and VC-1 in hardware (supports Blu-ray)
Supports DirectX 10, OpenGL 2.1, Shader Model 4.0
Supports Dual-Independent-Display via HDMI and VGA port )
Slots
1x PCI-Express v2.0 slot (PEG, for graphics cards only)
1x PCI 32 bit slot
Supports Dual-slot (double-width) graphics cards -
in this case the PCI slot will be occupied.
If a discrete graphics card is used, the onboard graphics will be deactivated.
HD audio
7.1 channel High Definition Audio with Realtek ALC888 codec
Azalia standard support
Analog: line-out (8-ch), line-in, microphone, AUX input (onboard)
Digital: optical S/PDIF-out, also via HDMI output
Gigabit LAN
Realtek RTL 8111E Ethernet network controller
PCI Express interface
IEEE 802.3u 1000Base-T compliant
Supports 10 / 100 / 1.000 MBit/s operation
Supports Wake-on-LAN (WOL)
Card reader
Integrated USB 2.0 multi format card reader in the front panel supports:
Secure Digital (SD, SDHC), MultiMediaCard (MMC),
Memory Stick (MS Pro/Pro Duo/Pro-HG)
Drive connectors
4x Serial ATA (3 Gbit/s)
1x External Serial ATA (3 Gbit/s) at the front panel
Front Panel connectors and buttons
Microphone input
Headphone output
USB 2.0
eSATA / USB 2.0 combo port
4-in-1 Card Reader (SD, SDHC, MMC, MS/Pro/Duo)
Power button
Power indicator (white LED)
Hard disk/Optical disk drive indicator (blue LED)
Back Panel connectors
HDMI (digital video out with digital audio) **)
D-Sub VGA (analog video out) **)
4x USB 2.0
GigaBit LAN (RJ45)
8-ch Audio line-out (2x rear/front, bass/center, surround/back)
Audio Line-in
Digital Audio: optical S/PDIF output
Clear CMOS button
Other connectors
4x USB 2.0 (two sets with 2x5 pins)
2x fan connectors ( 4 pins and 3 pins)
Audio AUX input
Accessories
Multilanguage XPC Installation Guide
32/64bit driver disk for Windows XP/Vista/7
Preinstalled cables: 2x SATA,
Power Cord
Screws
Heatsink Compound