10. Writing Quality Tests - C1 / C2 Error Measurements
Plextor PX-716A Burner - Page 10
Writing Quality Tests - C1 / C2 Error Measurements
We measured the C1 / C2 error rate of the recorded discs we burned at the maximum 48X supported writing speed. The software used was PleXTools Professional v2.18, and particularly the built-in Q-Check utility. The reader was the same drive, the Plextor PX-716A (firmware v1.02).
Traxdata 80min 52X @ 48X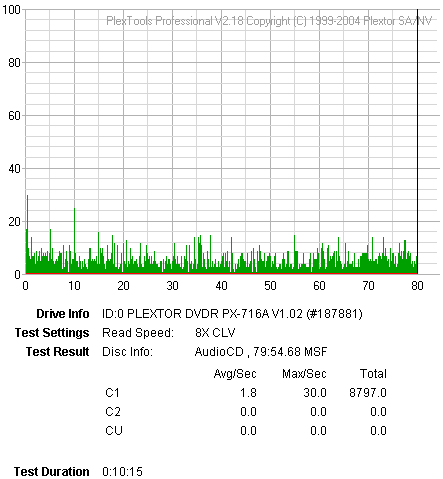 BenQ 80min 52X @ 48X
SKC 80min 48X @ 48X
Creation 80min 48X @ 48X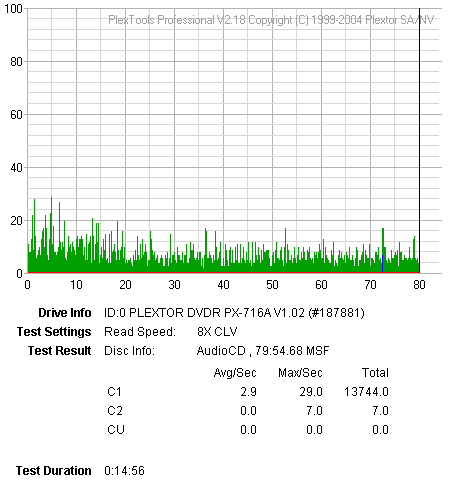 MMore 80min 52X @ 48X
- Summary
The CD media burned with the Plextor burner produced C1 errors at normal levels while the C2 levels were were negligible and present in only a single case, that of SKC media. Generally good quality. But let's see what professional equipment will report...
- Appendix
| | | | |
| --- | --- | --- | --- |
| Media Label | ID Code | Manufacturer Name | Lead Out TIme |
| Traxdata 52X | 97m15s17f | Ritek | 79:59.70 |
| BenQ 52X | 97m22s67f | Daxon. | 79:59.74 |
| SKC 48X | 97m26s26f | SKC Co., Ltd. | 79:59.73 |
| Creation 48X | 97m27s18f | Plasmon Data Systems Ltd. | 79:59.74 |
| MMore 52X | 97m17s 6f | Moser Baer India, Ltd. | 79:59.74 |