29. Conclusion
Plextor PX-716A Burner - Page 29
Q-Check TA Function
Something really new on the PX-716A is the advanced Q-Check function with the two letters "TA", that are the initials for Time Analyser. Plextools explains exactly what the test measures:
After choosing the test and pressing start, you can select from three zones to "scan", inner/middle/outer for the appropriate disc zone:
The test results will vary from disc to disc and from zone to zone, however user can easily test a full disc in only 40secs, since each zone takes more or less 16secs to finish: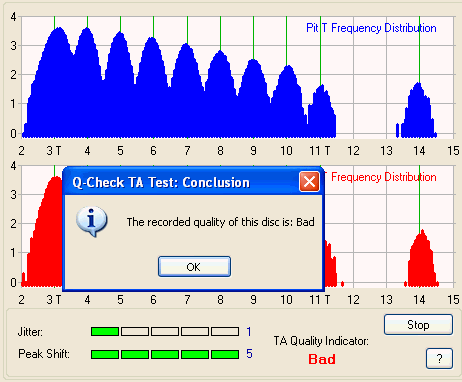 The tested disc is rather bad, the 3T-11T curves are almost one shape, while there should be 9 different curves :-) Continued testing on the same disc in the middle and outer disc zones, we noticed that the results are also bad...
If the inserted disc is a dual layer (DL), user can select inner/middle zone at Layer 0/1, as the following picture illustrates:
We cannot really understand the scoring system, since the following two scales (4/3) and (3/3) got the same quality indicator score...
Plextools also offers the option to save all results at HTML format with some additional information: