9. Writing Quality Tests - 3T Jitter Tests
Plextor PX-716A Burner - Page 9
Writing Quality Tests - 3T Jitter Tests
On this page we present the 3T Pit & Land Jitter graphs when using various media burned at the 48X CAV writing speed.
- 3T Pit results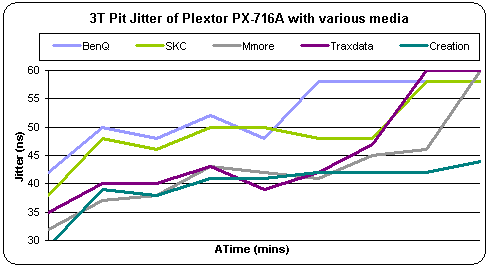 - 3T Land results
The Jitter levels are increased, in most cases way above the 35ns limit, something we didn't expect to see. The average levels illustrate this situation. However, we should not forget that it concerns 48X recording, the highest CD writing speed for a DVD burner.
On the following page we check the C1 and C2 error rates of the same discs, to come up with more specific conclusions.