Patriot Memory Valkyrie NAS review
2. Package, HDD installation
The Patriot Memory Valkyrie NAS storage costs around $129.99 ($99.99 after rebate), which is a good price for a NAS device, although no hard disk drive is included.
Below you see the retail package of the NAS device. Without any fancy logos and colors on it, the package has a clear design with the essential "Valkyrie" and "Patriot" brand logos and a picture of the device printed on the front side:
The contents are well-packaged into protective plastic foam:
Besides the main NAS device, the package includes an RJ-45 Cable, a power supply, a power cable, a quick start guide and a
software CD:
The PatriotMemory Valkyrie is compact in size. The device looks quite solid with its metal case and it also weighs a little bit more than you might expected.
It's front side includes several buttons and indicator LEDs, a power on/off switch - you have to push it for several seconds to react - a backup button and finally a USB II port:
At the rear side there is a second USB port, a Gigabit LAN jack, a DC power in, a reset input and finally a low-noise 60mm fan.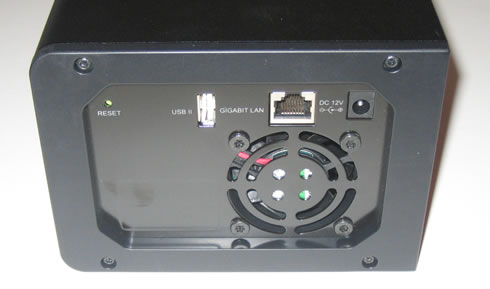 The NAS device is offering two HDD bays, accessible after opening the front cover. The product supports up to 1.5TB hard disks, meaning that you can enjoy a total capacity of up to 3TB: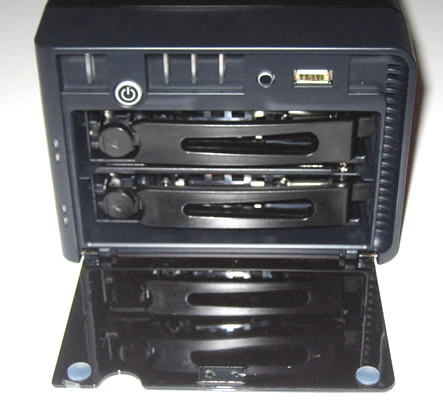 In order to remove the drive bays you should apply some pressure to the left side and pull them out. Both bays are made of metal. Make sure to remove the plastic covers on the top before installing the HDDs:
Below you can see the two SATA slots and the controllers of the device:
Each of the HDDs can be easily mounted on each bay using included four screws:
That's it. We power on the device and immediately the LEDs light up showing that the HDDs have been correctly installed: