Patriot Memory Valkyrie NAS review
6. Other features, conclusion
- Other functions
The PatriotMemory Valkyrie has an embedded FTP server that allows you and other users to access
this device by an FTP client. When the FTP Server is selected under the "Services" menu, this window appears. The defaults port number of the FTP server is 21. You may allow FTP clients to connect with the device with or without username/password authentication allowing access to a public folder. You can also enable or restrict downloading from the server or set the number of users that can access the FTP site at one time:
This device also supports UPnP AV server, which allows users to play media files with UPnP client (ex. DMA devices). We tested the UPnP AV server function with the AC Ryan PlayOnHD device and it worked great, without any problems. The Xvid files were perfectly playable through the local network:
Finally, the device can also become an iTunes server: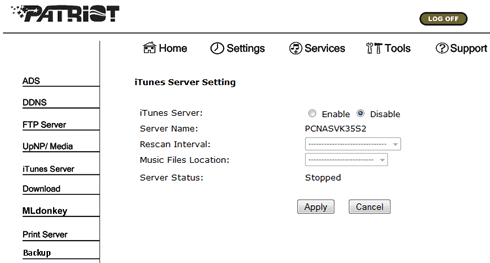 - Conclusion
After spending some time experimenting with the Patriot Valkyrie NAS we can safely say that the device is a great great entry-level unit, well built and packed with many feature.. Many users are buying NAS servers in order to simply store files on their network, publish them on the Web or download files using its built-in BitTorrent client. For all those, the Valkyrie NAS is definitely the way to go.
The device supports two HDDs with RAID 0, 1 and Linear function.We are not sure whether it makes sense to use RAID0, since it would be putting data at risk without any performance advantage. You can also use JBOD in order to merge drives into a single volume. RAID1 would be a wise choice if you had two identical HDDs. It duplicates data over both drives so if one fails, you don't lose anything. What we liked is the fact that the device can support up to 1.5TB HDDs, according to the specs and that we had no problem setting up a RAID 0/1/Linear system in no time.
Everything can be easily adjusted through a web browser after typing the IP address of the server. The navigation across the menus is easy and understandable.
The device is also well-built with a robust metallic case. Bit the Valkyrie's main appeal comes in its vast array of features. It offers FTP, DDNS, iTunes server, UPnP, BitTorrent and a print server. As a UPnP server, the Valkyrie easily streamed HD Xvid files through the local network. We also downloaded large files from the net using the embedded BitTorrent client without any issues.
If we had to list some negatives it would be the rather slow transfer rates that we have noticed during reading/writing tests. The embedded Marvell processor can't handle much more than a 100 Mbps network connection. At about 11-12 MB/s, transferring a large file to or from the NAS was about much slower than copying files from a computer to another through the network.
In addition, we would like to see a new firmware release that would enable AFP/NFS format options.
Overall, the Patriot Valkyrie NAS is a great entry level unit, packed with many features and most importantly -- affordable. If Patriot decide to correct Valkyrie's few rough edges, it'll be hard to resist the $130 price tag. If you are looking for a device that will stream high - quality multimedia content through your network at lightning speeds, then you 'd better look to other solutions. However, if you're looking for an affordable centralized data storage solution for your home, the Patriot Valkyrie NAS is a great choice.
Positive
- Web browser UI provides easy management
- Solid construction
- Low-priced compared with other products
- Quiet operation
- Includes print server, FTP, AV Server, ITunes server etc..
- It is supposed to support Hot Swapping Drives in RAID 1
- PatriotMemory forum is active
Negative
- No firmware support till today to support AFP and NFS format option
- No Raid 5
- Transfer speed is rather slow when compared with normal PC system