Crucial RealSSD C300 64GB review
1. Features
Today we have in our labs Crucial's latest mid-range addition to its C300 series of Solid State Drives (SSD). The Crucial RealSSD C300 64GB is offering a capacity of 64GB and it is also comparatively cheap. The new drive could attract many enthusiasts looking for a super-speedy boot drive.

The new 2.5-inch Crucial RealSSD C300 drive promises mobile and desktop users fast read speeds of up to 355MB/s.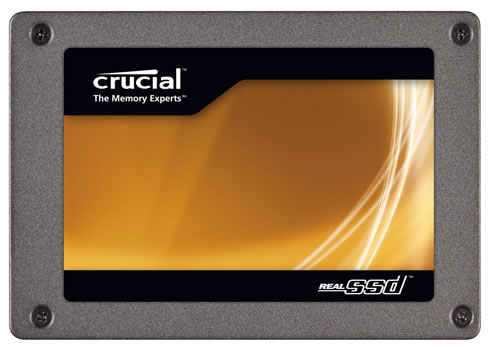 The 64GB C300 is built on the same platform (NAND design and controller) as the company's initial 128GB and 256GB C300 capacities, and the target applications are the same—notebook/desktop computers. The drive is designed and optimized for these personal computing applications, however; Crucial have seen a good level of interest in the 64GB capacity from the industrial/embedded market as well as the server space. The drive is priced at $150 (including VAT). As a result, the the dollars per gigabyte and relative performance of the drive are well suited for these types of applications.
The 64GB C300 ships with all the features associated with the C300 line. It has been designed with high-speed synchronous MLC NAND, advanced controller technology (Marvell 88SS9174-BJP2 controller), optimized NAND management, and have a SATA 6Gb/s interface. The NAND chips (16 in total) are manufactured by IMFT, a collaboration between Intel and Micron, and are based on 34nm NAND. All these contribute to improved data transfers for bandwidth-demanding applications like audio and video.
The improvement in boot time and application load times push performance to new levels at the desktop too. The drive is offering improvement across a variety of common tasks such as viewing and editing photos, video, music and other media, gaming, and communications.
Last but not least, the Crucial RealSSD C300 series employ a standard hard drive interface and dimensions, so it is an easy storage upgrade for most notebooks.
- Features
Read speeds up to 355MB/s
SATA 6Gb/s interface
High-speed Synchronous NAND
Limited three-year warranty