OCZ Vector 180 480GB SSD review
3. HDTachRW, ATTO Disk Benchmark
Here is our testbed:
Shuttle SH81R4
Processor: Intel i7 4790Graphics card: Club3D Radeon HD 6790 CoolStream EditionMemory: 2x8GB RAM DDR3-1600 CrucialSSD: 512GB Crucial MX100Monitor: LG L246WH-BH 24"
Windows 7 x64 SP1 with latest updates installed
We start the tests with the HDTachRW software. The software measures the sequential read speed, the random access speed and sequential write speed. Remember that the HDTachRW feeds the tested drive a continuous string of small sequential requests. It doesn't equate to real-world maximum throughput, but it does mean something for analysis.
The drive's reading speed was consistent throughout its capacity and the average read speed was at 301MB/s, which is not the highest we have seen from an SSD in this particular benchmark. The average write speed was 351 MB/s.
The next software we used was the ATTO Disk Benchmark. The tool measures storage systems performance with various transfer sizes and test lengths for reads and writes. The benchmark performs file transfers ranging from 0.5 KB to 8192 KB. ATTO can be adjusted to do overlapped I/O, in a variety of queue depths. We tested the SSD using the benchmark's default settings, using 256KB file length performance and QD4. ATTO probably gives the most accurate results for compressible read and write data.
ATTO reveals sequential read and write speeds that are in line with drive's specs. Reads reach 550MB/s and writes reach 522MB/s. With small 0.5KB, 1KB, and 2KB file sizes, the read performance does not seem to scale with the write, but once it reaches 4KB performance increases significantly from 35MB/s to 214MB/s.
We selected to show you the performance of the drive with 4K and 2MB files. The OCZ Vector 180 480GB SSD is not among the top performers with such small files, as you see below: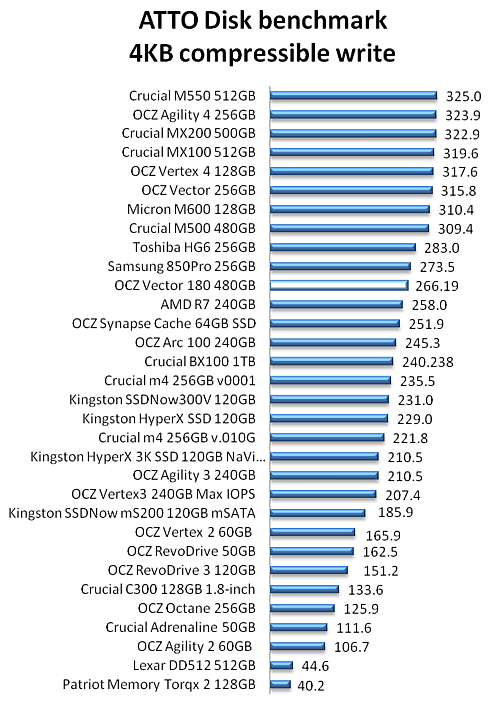 The drive was fast with larger 2MB files and was positioned among the rather crowded first places in the read and write charts you see below.