Samsung 950 Pro M.2 512GB NVMe review
1. Meet the Samsung 950 Pro M.2 512GB NVME SSD
Samsung has already released M.2 drives with PCIe interfaces for OEM customers, but now the company is bringing a PCIe drive to the retail market. The Samsung 950 Pro is Samsung's first consumer M.2 and NVMe drive that uses the full performance of four PCIe 3.0 lanes. It is an upgrade from its predecessor, the SM951, in that it uses 3D V-NAND rather than planar NAND.
With Intel's Skylake platform bringing enough I/O bandwidth to support multiple lanes of PCIe 3.0, Samsung's new 950 Pro SSD can push the hardware to its limits.
The 950 Pro comes in only two capacities for now: 256GB or 512GB, with a 1TB model promised for next year. The 1TB drive will have to wait until 48-layer 3rd-generation V-NAND is available.
US pricing is pegged at $200 for the 256GB model and $350 for 512GB.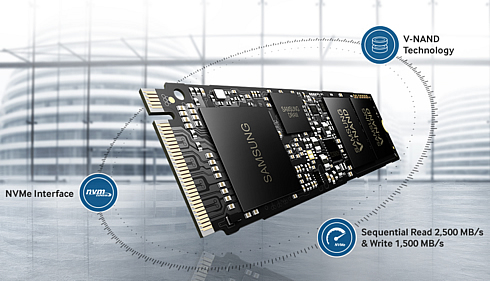 Samsung is quoting sequential read speeds of up to 2,200MB/sec for the 256GB 950 Pro, and 2,500MB/sec for the 512GB model. 4KQD32 write IOPS are pegged at 85,000 for the 256GB drive and 110,000 for the 512GB, with read IOPS of up to 270,000 and 300,000 respectively.
The 950 Pro only carries five years of warranty. The quoted TBW (total bytes written) is higher on the 950 Pro than on the 850 Pro, with 200TB for the 256GB model and 400TB for the 512GB.
Here are the complete specs:
MZ-V5P256BW
MZ-V5P512BW
General Feature
Application
Client PCs
Capacity
256 GB
512 GB
Form Factor
M.2 (2280)
Interface
PCIe 3.0 x4 (up to 32 GB/s) NVMe 1.1
Dimension (LxWxH)
Max. 80.15 x 22.15 x 2.38 (mm)
Weight
Max. 10g (512GB)
NAND Type
Samsung V-NAND
Controller
Samsung UBX controller
Cache Memory
Samsung 512 MB Low Power DDR3 SDRAM
Special Feature
TRIM Support
TRIM Supported (Required OS support)
S.M.A.R.T Support
S.M.A.R.T Supported
GC (Garbage Collection)
Auto Garbage Collection Algorithm
Data Security
AES 256-bit for User Data Encryption
TCG Opal Family Spec and eDrive(IEEE1667) to be supported by FW update
WWN Support
N/A
Performance
Sequential Read
Up to 2,200 MB/sec
Up to 2,500 MB/sec
Sequential Write
Up to 900 MB/sec
Up to 1,500 MB/sec
Random Read
(4 KB, QD 32, Thread 4)
Up to 270,000 IOPS
Up to 300,000 IOPS
Random Write
(4 KB, QD 32, Thread 4)
Up to 85,000 IOPS
Up to 110,000 IOPS
Random Read
(4 KB, QD 1, Thread 1)
Up to 11,000 IOPS
Up to 12,000 IOPS
Random Write
(4 KB, QD 1, Thread 1)
Up to 43,000 IOPS
Up to 43,000 IOPS
Environment
Power Consumption
Active average 5.1W, Maximum 6.4W,
Idle : 70mW, Device Sleep Mode Support (L1.2 mode): 2.5mW
Active average 5.7W, Maximum 7.0W,
Idle : 70mW, Device Sleep Mode Support (L1.2 mode): 2.5mW
Reliability (MTBF)
1.5 Million Hours Reliability (MTBF)
Operating Temperature
0 °C to 70 °C (Measured by SMART Temperature. Proper airflow recommended)
Humidity
5% to 95%, non-condensing
Vibration
20~2000Hz, 20G
Shock
1500G , duration 0.5m sec, 3 axis
Software
Management SW
Magician Software for SSD management
Warranty
5 Year Limited Warranty or 200 TBW Limited Warranty
5 Year Limited Warranty or 400 TBW Limited Warranty
Currently, most systems offer 16 lanes from the processor, mainly for graphics cards, and one-lane slots for anything else from the chipset. With Intel's Haswell generation of processors the SATA Express connector and M.2 slot started appearing, but systems with a four-lane PCIe 3.0 connection available are still rare. This changes with Skylake and the 100-series chipsets that can support 20 PCIe 3.0 lanes of connectivity through the chipset, and up to three PCIe 3.0 x4 drives in Intel's RST mode for RAID combinations.
NVMe (Non-Volatile Memory Express) is a command set for PCIe-based storage first and offers an important improvement over Advanced Host Controller Interface (AHCI) for SSDs. The first PCIe SSDs either implemented proprietary interfaces requiring custom drivers, or they implemented older AHCI and ATA command set and as such appeared to the OS to be a SATA drive in every way (except for the 6Gb/s speed limit).
To allow SSDs to better take advantage of the performance possible through PCI Express, a new host controller interface and command set called NVMe was developed. NVMe offers lower latency communication between the SSD and the CPU, and lower CPU usage when communicating with the SSD. Howevr, it is not backwards-compatible, so in order to use an NVMe SSD you need an NVMe driver, and in order to boot from an NVMe drive your motherboard's firmware needs NVMe support.
Windows 8.1 and Windows 10 have both built-in NVMe driver that implements all the basic functionality necessary of NVMe for everyday use. But most vendors are providing a custom NVMe driver.
The Samsung 950 Pro M.2 512GB NVME SSD comes in the 80mm-long 2280 format. As with all M.2 SSDs, it uses an M-key connector, which is mandatory for four-lane PCIe speeds. Notably, Samsung has opted to not bundle a PCIe adaptor card with the drive. While that would make the 950 Pro usable in any desktop computer right out of the box, it would mean higher pricing and more packaging.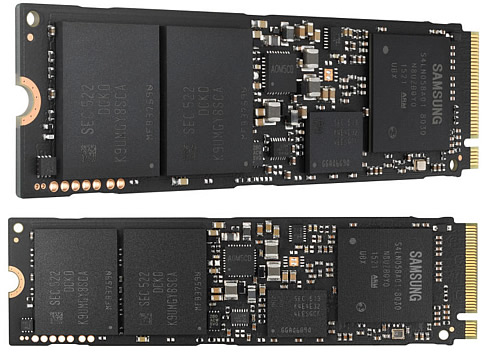 The 950 Pro uses a 500MHz triple-core "UBX" controller, which is not very different than the 400MHz "MEX" controller found in the 850 Pro. Both capacities have 512MB of LPDDR3 memory and both support the NVMe 1.1 protocol. AES 256-bit encryption is supported with TCG Opal and eDrive support promised, but only in a future firmware update. However, the 950 Pro is using the new controller as the SM951, but uses it with 3D NAND. Samsung has renamed their 3D V-NAND to V-NAND for simplicity and this SSD contains V-NAND. This is MLC (multi-level cell) 32-layer 128Gb memory and the 512 GB capacity contains two 256GB chips. We first saw Samsung's 128Gb 32-layer V-NAND in the 2TB 850 Pro.
The 950 Pro also has a technology called Dynamic Thermal Throttling (DTT), in order to cope with additional heat generated the M.2 storage device. DTT is described by Samsung as a method for "controlling the temperature of the device to reduce overheating and maintain a high level of sustained performance."