ASUS STRIX R9 380X OC review
1. Meet the ASUS STRIX R9 380X OC video card
AMD's new Radeon R9 380X fills a gaping hole in the world of graphics cards. The card is advertised as "a solid for most games at 1080p" and retails for roughly $230, taking the advantage over Nvidia's GeForce GTX 970 offering.
The card is based on a full-featured Tonga GPU and it's actually a beefed-up R9 380: more stream processors, more memory, faster memory and core clocks. Where the R9 380 offers GPU clock speeds up to 970MHz and a 4GB memory option, those are both the starting point for the new card. In addition, the Radeon R9 380X has full support for all the latest Radeon software features, like FreeSync, Frame Rate Target Control, and Virtual Super Resolution.
Rather than R9 380's 28 CUs, all 32 CUs are enabled for R9 380X. Otherwise we're still looking at the same 32 ROPs backed by a 256-bit memory bus, all clocked at 970MHz.
The R9 380X also sees AMD raise the default memory configuration from 2GB for the R9 380 to 4GB for this card. Otherwise the 5.7Gbps memory clockspeed of the R9 380X is a slight bump from 5.5Gbps of the 2GB R9 380.
From a power perspective the R9 380X's typical board power remains unchanged at 190W.
| | Radeon R9 380X | Radeon R9 380 | Radeon R9 390 |
| --- | --- | --- | --- |
| Architecture | GCN | GCN (Tonga) | GCN (Hawaii) |
| Manufacturing process | 28nm | 28nm | 28nm |
| GPU clock (maximum) | 970MHz | 970MHz | 1,000MHz |
| Stream Processors | 2,048 | 1,792 | 2,560 |
| Texture units | 128 | 112 | 160 |
| Memory | 4GB GDDR5 | 2GB / 4GB GDDR5 | 8GB GDDR5 |
| Memory Clock | 1,425MHz (5.7GHz or equivalent) | 1,425MHz (5.7GHz or equivalent) | 1,500MHz (6GHz equivalent) |
| Memory Interface | 256bit | 256bit | 512bit |
| ROP units | 32 | 32 | 64 |
| Board Power | 190W | 190W | 275W |
AMD's board partners are launching cards today. Today we have the chance to test the ASUS STRIX R9 380X, which is an overclocked version of the Radeon 380X card.
The ASUS STRIX R9 380X is equipped with Asus's "DirectCU II" GPU cooler featuring a semi-fanless design. It and incorporates two 8mm heatpipes and one 10mm heatpipe with two wing-blade 0dB fans installed.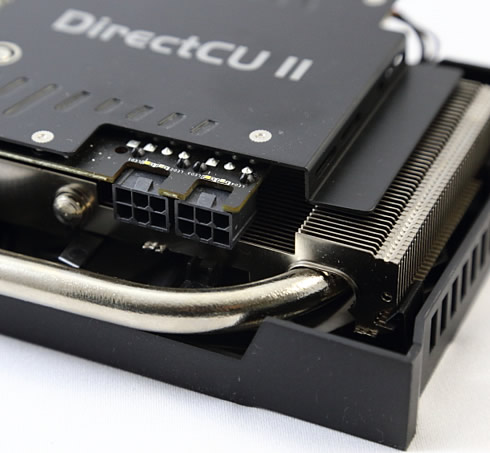 The card ships with its GPU core overclocked at 1,030MHz.hat means it has a nice 60MHz overclock without having to do anything. In addition, if you install GPU Tweak you can hit an "OC" button and instantly overclock this video card to 1050MHz, an addition 20MHz. Of course you can just manually overclock it as well. The memory runs at the default 5.7GHz.
The ASUS STRIX is based on STRIX technology so naturally the fans stop spinning at idle speeds and engage when needed.
For power you will need to plug in two PCIe 6-pin connectors. There are also some LED lights to ensure you have power connected correctly. For output this video card supports DVI-I, DVI-D, HDMI (no 2.0) and DisplayPort.
We tested the ASUS STRIX R9 380X OC using the following PC setup:
| | |
| --- | --- |
| CPU | Core i7-6700K |
| Motherboard | ASUS Z170-A |
| Memory | DDR4-2133 8GB × 2 (15-15-15-35,1.20V) |
| Storage | 256GB SSD |
| Graphics driver | Catalyst 15.11.1Beta / GeForce 358.91 Driver |
| OS | Windows 10 Pro 64bit |
The following graphics cards have been also included in the performance charts:
GPU
GPU clock
Boost clock
Memory Clock
VRAM
ASUS STRIX-R9380X-OC4G-GAMING
1,030MHz
No
1.425GHz (5.7GHz or equivalent)
4GB

ASUS STRIX-R9380-DC2OC-2GD5-GAMING

990MHz
1.375GHz (5.5GHz or equivalent)
2GB
ASUS

STRIX-R9390-DC3OC-8GD5-GAMING

1,050MHz
1.5GHz (6.0GHz or equivalent)
8GB

ASUS STRIX-R9390X-DC3OC-8GD5-GAMING

1,070MHz
1.5GHz (6.0GHz or equivalent)
8GB

ASUS STRIX-GTX960-DC2OC-2GD5

1,228MHz
1,291MHz
1.8GHz (7.2GHz or equivalent)
2GB

ASUS STRIX-GTX970-DC2OC-4GD5

1,114MHz
1,253MHz
1.75GHz (7.0GHz or equivalent)
4GB