1. Introduction
OCZ Technology Group announced back in April, the PC2-7200 Platinum Series - the introduction of OCZ's memory line with Enhanced Performance Profiles (EPP). The new PC2-7200 Platinum EPP modules are exclusively designed with advanced SPD settings to allow compatible motherboards to recognize and utilize the added operating data, ultimately increasing the performance potential of the entire platform.
The mission of Enhanced Performance Profiles is to offer optimized system operation and compatibility through the collaboration and integration of OCZ configured SPD (Serial Presence Detect) settings and BIOS designs on NVIDIA® nForce® 590 SLI™-based motherboards. Only motherboards equipped with the custom-designed BIOS, such as those designed for NVIDIA nForce 590 SLI MCPs, can detect the optimized SPD profiles of the EPP-based modules and ensure the memory overclocks under the best possible conditions.
When installed on a compatible motherboard, OCZ EPP modules immediately operate at 900MHz DDR2 with 4-4-3 timings without the customary BIOS adjustments, resulting in an innovative and clear-cut method for unacquainted individuals to overclock their system. The PC2-7200 Platinum solutions will be available in 1024MB (1GB) modules and 2GB (2x1024MB) dual channel kits to enhance the latest graphic-intensive PC games, such as Battlefield 2, Half Life 2, Doom 3, and Quake 4, which deliver the best end-user experience with 2GB+ of memory.
All SLI-Ready PC2-7200 Platinum EPP modules are 100% hand-tested for quality assurance and compatibility and feature high quality, platinum-mirrored XTC heatspreaders for the most effective heat dissipation. Furthermore, each OCZ EPP module is backed by the industry leading OCZ Lifetime Warranty and technical support for unparalleled peace of mind. With the fusion of the sophisticated EPP memory specification and cutting-edge, high-speed OCZ DDR2 architecture, the PC2-7200 Platinum edition is the ultimate breakthrough for advanced SLI platform performance.
- Main features
900MHz DDR2
4-4-3-15 (CAS-TRCD-TRP-TRAS)
Available in 1GB and 2GB (2x1024) dual channel kit
Unbuffered
Platinum Mirrored XTC Heatspreader
Lifetime Warranty
2.1 Volts
240 Pin DIMM
NVIDIA® SLI™ certified
2.2V EVP
- Retail package
OCZ Technology provided us with the retail package of the OCZ DDR2 PC2-7200 Platinum SLI (2x1GB). The retail price is around ~US$400 and includes the two memory modules in a protective plastic shell.
We can see the modules removed from their plastic packaging below. On both sides of the heatspreader, there is the "OCZ" logo, while on one side of each there is a sticker with the model and part numbers, and other manufacturing information.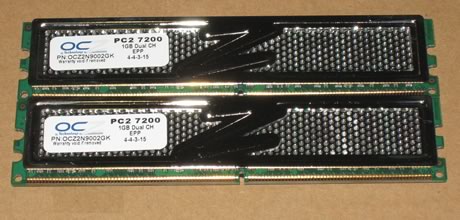 The OCZ PC2-7200EPP have been designed to work at DDR2-900 with CL4-4-3-15, making them very fast. The memory is rated as "EL". EL stands for Enhanced Latency. Enhanced Latency memory modules are specifically designed to run at lower latencies than normally possible with most standard memory modules.