2. STEP BY STEP Installation
-STEP BY STEP Installation
Let's take a step by step look at the installation procedure, as well as some "key" features of the Maxtor One Touch II.
Without connecting the hard disk to the system, load the installation CD which should auto run. This will run the installation program and bring up the "Main Menu" screen (screen shot below), from which you choose to install the Maxtor drivers, One Touch Settings program and Retrospect Express.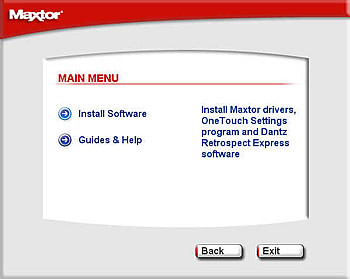 After the One Touch drivers are installed, it then automatically starts installation of the Retrospect Express HD 1.0 software.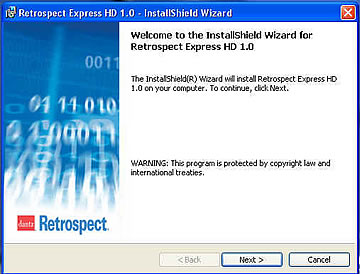 You are then prompted to restart your computer so that the Retrospect configuration changes can take effect.
After restarting your computer, you are instructed to connect the hard drive to the system.
Note that you can have the hard disk connected to the system before the drivers and program installation process but with the power turned off.
So, after connecting the disk and turning the power on, the system detects the drive and tries to find the most suitable drivers.
After selecting "install the software automatically", the hard disk is now ready for use.