LiteOn LVW-5045 HDD&DVD Recorder
14. Easy Guider - Copy Menu
LiteOn LVW-5045 HDD&DVD Recorder
Easy Guider - Copy Menu
The copy menu can be used to transfer files from and to the LVW-5045. There is a large amount of freedom here for the user. The LVW-5045 can store in its internal hard disk, not only video, but also music and images.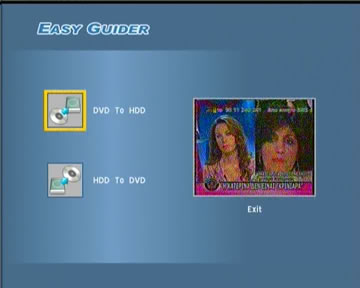 We first have to select the source and the destination of the data we wish to copy.
Then we select a video previously recorded to the hard disk to transfer to a DVD disc.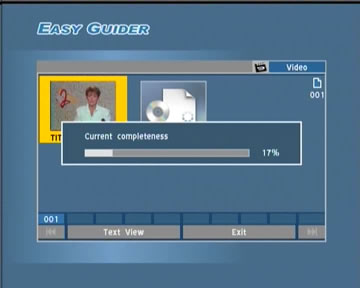 After that, we wait for the transfer to complete. The LVW-5045's internal DVD burner can reach a maximum recording speed of 8x, depending on the recordable media inserted. Later on in this review, we present the recommended media list, as given by LiteOn.
The LVW-5045 can also backup an unencrypted (i.e. without CSS encryption) DVD-Video disc in its entirety onto the hard drive. The movie after that will be fully playable, as if the disc was inserted in the unit's DVD drive.
Imagine this scenario: you are recording a multi-hour event on TV using the HQ quality mode. In HQ quality mode, the space required is one DVD disc per hour of recorded video. As long as the recording stays on the hard drive, everything is ok. But what happens if we decide to store the recording on DVDs? Some DVD recorders (like the Pioneer DVR-720H-S) offer a feature that automatically transcodes the recording, effectively lowering its quality in order to fit on the DVD disc. Unfortunately, the LVW-5045 does not offer this feature and the only solution left is to split the recording into smaller parts using the menus. This could confuse the inexperienced user in our opinion and in the long run, force them to use lower quality modes (like LP) instead of taking advantage of the extra quality that could be used.