LiteOn LVW-5045 HDD&DVD Recorder
12. Easy Guider - Recording Menu
LiteOn LVW-5045 HDD&DVD Recorder
Easy Guider - Recording Menu
Using the Recording menu, we can make recordings either on DVD or the internal hard disk.
First of all, we need to choose the video source. We can record video from the TV, the front AV inputs, the SCART input on the back, or the DV input on the front.
We selected to record video from the TV tuner, so the next selection is the TV channel.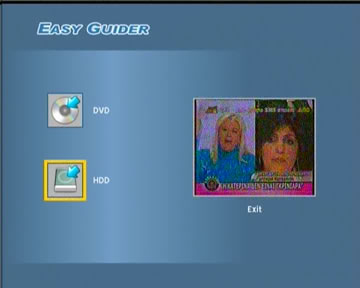 Next option is where to store (record) the video. We can either choose the hard disk, or a DVD disc. The obvious advantage of the hard disk is that we can record way more hours of video than a normal DVD disc. So if we are unsure about the amount of time we want to record, select the hard drive and then the recorded video can be transferred to a DVD disc.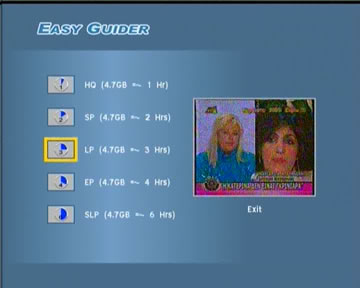 We then have to select the recording quality. There are 6 presets, SLP/EP/LP/SP/HQ with SLP having the lowest and HQ the highest quality. Please consult the table below for a more detailed explanation.

This menu has to do with the quality of the recorded audio.
After all selections have been made, we can begin recording by selecting the "Go" button.