1. Introduction
LiteOn recently introduced the EZ-DUB technology, a new, easier way of making disc to disc copies and simple back-ups. The first external drive that features EZ-DUB is the SHW-1635SU, and as you can tell from the name, it is a modified version of the external 1635S drive.
This new EX-DUB drive can burn DVD+R and DVD-R discs at 16x, and DVD+R DL discs at 8x. It also supports DVD-R DL writing at 4x. There is absolutely no changes in the DVD and CD writing and reading speeds from the LiteOn 1635S model.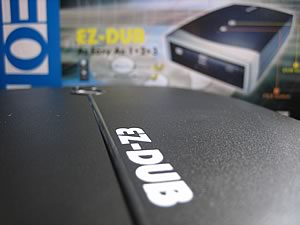 - Features
With the SHW-1635SU, you will have the usual LiteOn features:
SMART-BURN avoiding Buffer UnderRun error, Automatically adjusting writing strategy & running OPC to provide the best burning quality.
SMART-X function adjusts CD-DA / VCD / DVD data extraction to a fastest allowable speed according to both data request rate from host and disk quality.
VAS® system reduce vibration and noise during recording and reading.
But what makes this drive unique is the addition of EZ-DUB. In a few words, EZ-DUB allows you to copy an entire DVD disc to a blank disc, or back up your data in 3 simple steps. You will see later on in this review, how EZ-DUB actually works. For now, the only thing you need to know is that EZ-DUB lets you safeguard your photos, videos, data, music and data files with the touch of a button!
- Specifications
The following table shows the main specifications of the SHW-1635SU:
Model
LITE-ON DVDRW SHW-1635SU - EZ-DUB
DVD
Write
DVD+R 16x ( 21600 KB/sec ) maximum by CAV
DVD+R9 8x ( 10800 KB/sec ) maximum by Z-CLV
DVD-R 16x ( 21600 KB/sec ) maximum by CAV
DVD-R9 4x ( 5400 KB/sec ) maximum by CLV
ReWrite
DVD+RW 8x ( 10800 KB/sec ) by CLV
DVD-RW 6x ( 8100 KB/sec ) by CLV
Read
16x ( 21600 KB/sec ) maximum by CAV
Access time
160 ms
CD
Write
CD-R 48x ( 7200 KB/sec ) maximum by CAV
ReWrite
CD-RW 24x ( 3600 KB/sec ) maximum by Z-CLV in UltraSpeed disc
Read
48x ( 7200 KB/sec ) maximum by CAV
Access time
160 ms
Compatibility
Microsoft Windows 98SE / ME / 2000 / XP
MTBF ( Life )
70,000 POH
S/N Ration
> 75 dB
Environment
Operating 5C to 45C; Relative Humidity : 15% to 80%
Non-Operating -40C to 60C; Relative Humidity : 15% to 95%
Dimension
172.0 ( W ) x 66.0 ( H ) x 243.0 ( D ) mm
Weight
1.3 Kg
Below are the drive's main specs as given by NeroInfoTool and DVDInfoPro: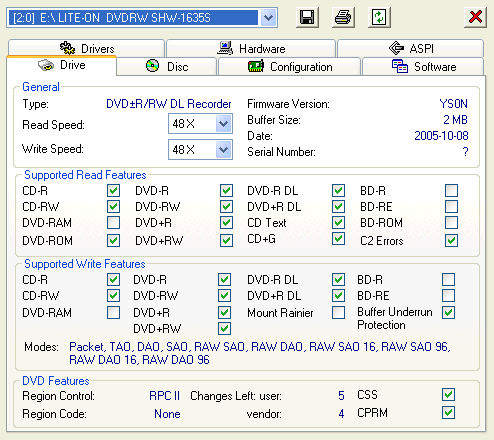 The drive also uses the RPC II region control, allowing a user to change the drive's region at most 5 times. As with all LiteOn drives, this one can be set to Region free through the use of several utilities.
- Retail package
There are not many changes in the retail package. You will find the usual stuff that available with most external drives. A quick installation guide, CDs with application software (Windows 98 drivers are also included), user's manual, USB2.0 cable, AC/DC power adapter and power cord.
-The Drive
As you can see from the picture below, the front bezel is the usual LiteOn bezel, with the activity led turning green upon disc insertion.
The rear panel has the USB2.0 connector and the power connector. As you can see, there are no audio outputs and no on/off button. The drive has a power saving function and will turn itself off when not used.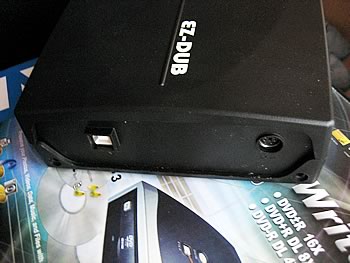 0
A black case is used, which has the following label on the bottom:
Our drive was manufactured in October 2005, in Taiwan.
One thing you won't miss noticing on the top of the case, are the buttons. They are labeled "DUB" and "FILE" and are used with the EZ-DUB software (included in the package). We will describe later on in this review, how this works.
- Installation
The drive was installed under WindowsXP, and was recognized as "LITE-ON DVDRW SHW-1635S ".
On the next few page, we will take a closer look at the drive.