1. Introduction
Mushkin was founded in 1994 and has been active in the memory business. It is a well known manufacturer in the overclocker community and most users that want to push their systems to the limits, choose Mushkin memory modules because of their quality and performance.
We received Mushkin's latest 2GB dual memory pack, consisting of two XP4000 readline (2x1GB). This is the first time that CDRinfo.com tests Mushkin products, although we have already tested several products from Mushkin's competitors, such as Corsair, OCZ, Kingmax and many others. In many online forums, Mushkin's memory modules are referred to as the best modules around. But let us see for ourselves.
- A Closer Look
The first thing that is noticeable is the red heat spreader with the label and MUshkin logo. As shown below, the full name for these memory modules is "Mushkin Redline XP4000". XP stands for Xtreme Performance and is the trademark for the Mushkin Extreme Performance Black Series. This line of modules aims at satisfying PC enthusiasts and hardcore overclockers that just can't bare the industry's standard clock settings :-)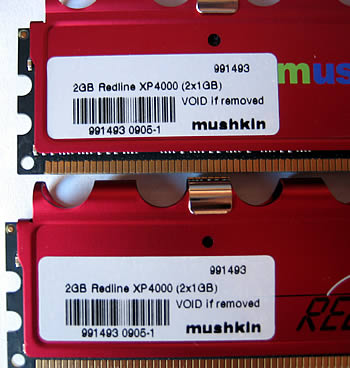 Although these modules are part of the "Black Series", they are red... The eye-catching red heat spreader eliminates localized hotspots, thus increasing memory reliability and longevity and adding overclocking ability.
Mushkin uses a black PCB (Black Series), and you can find the "Mushkin Enhanced" signature if you look closely.
These memory modules are unbuffered, 184-Pin DDR Synchronous DRAM DIMM modules, tested to work in dual channel mode. Each module shares 1GB of memory, being able to operate at 500MHz (2x250MHz) with 3-3-2-8 latencies, very low timings for this memory size.
The Mushkin XP4000 Redline uses the Infineon CE-6 chipset. The main difference with this Redline product is that in this case, the operating voltages are 2.6v - 2.9v, unlike previous Redline modules that needed higher voltages to achieve the rated frequencies and timings.
The modules come in a good looking, thin package.
- Specifications
Below you can see the table with all the specifications for the Mushkin XP4000 Redline RAM modules.
| | |
| --- | --- |
| Product Name | XP4000 - Redline |
| Package | 2048MB kit (2x1024MB) (dual pack) |
| CAS Latency | 3-3-2-8 |
| Test Voltage | 2.6V - 2.9V |
| Speed | DDR 500 MHz (PC4000) |
| Type | 2x 184-pin DDR SDRAM |
| Error Checking | Non-ECC |
| Registered/Unbuffered | Unbuffered |
| Manufacturer Warranty | lifetime warranty |