LGA 1366 CPU Coolers: GlacialTech UFO V51 Vs Titan Fenrir
7. Test methodology
For our tests with the LGA 1366 CPU coolers we used an open air test bed with the following configuration:
CPU: Intel Core7-920 Retail
Case: open air test bed
Motherboard: Asus P6T Deluxe Bios 1003 & Foxconn Renaissance Bios P07
Memory: 3x1GB Crucial PC3-1066
PSU: OCZ 720W
HDD: WD 80JB
Operating system Windows XP with all the latest updates installed
Software: OCCT v2.0.1 & CoreTemp 0.99.3
Thermal Paste: Tuniq TX-2
Idle time: ~30min
Load time: ~30min
RPM speed controllable via SmartFan BIOS or via external hardware controller
In order to produce the highest possible temperature inside the PC case, we used OCCT v2.0.1 software with a custom 30mins (mixed) operation.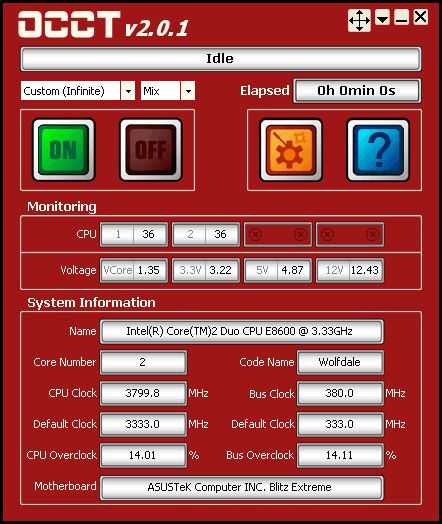 We left both cores running at full load for ~30 minutes. All temperatures were logged using the CoreTemp 0.99.3 and the software itself.
We followed two overclocking scenarios:
Intel Core i7-920 @ 2.66GHz
Vcore: 1.1000V
Other BIOS values: Auto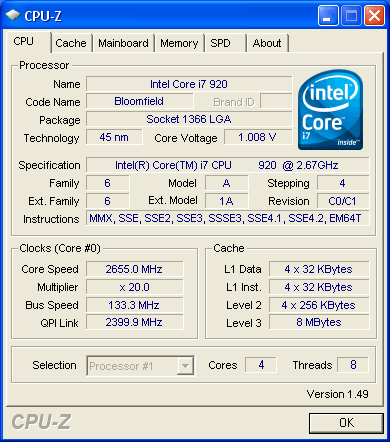 Intel Core i7-920 @ 3.60GHz
Vcore: 1.26250V
DDR3 Voltage: 1.64V
Other BIOS values: Auto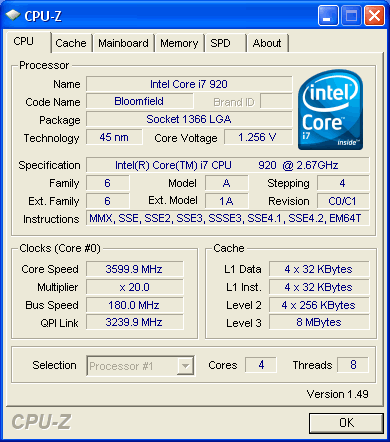 We also measured the produced noise from all the coolers using the Precision Gold N09AQ Environment Meter. All measurements were taken at a distance of 30cm from the cpu cooler running at full speed. For all the coolers we used the same thermal compound from Tuniq, the TX-2. All in all we tried to have the exactly same environment conditions in all the tested coolers.