LGA 1366 CPU Coolers: GlacialTech UFO V51 Vs Titan Fenrir
6. Titan Fenrir - Installation
In order to install the Titan Fenrir you have to read the printed manual for about 30secs. Things are very simple here. Just place the corresponding metal plate on the back side of the motherboard, in our case the Asus P6T Deluxe.
Then, place the central metal plate on the the Titan Fenrir
The final step is to gently place the cooler on the CPU and push the central metal clip until it reach the four metal headers.
Then you have to secure the whole structure by simply using the four hand screwdrivers...The whole process is simple and tool-less.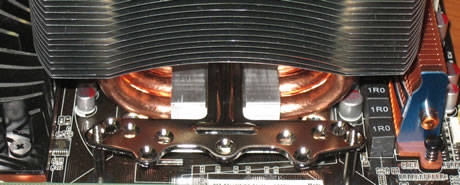 Installing the 120mm fan is also simple as the following picture shows: