LGA 1366 CPU Coolers: GlacialTech UFO V51 Vs Titan Fenrir
8. Test results
Both the Titan Fenrir and GlacialTech UFO V51 should be able to perform much better than Intel's stock CPU cooler.
Let's start with the results when the Intel Core-i7 920 processor runs at its default clock speed, the 2.66GHz. We can see that the Intel stock cooler keeps the cpu temperature at 58 degrees Celsius, which is rather high. Using the GlacialTech UFO V51 helped a little bit and the temperature was 4 degrees C lower. But the significant gain came from the Titan Fenrir system. At full speed, we got 46 degrees Celsius, while in the Q-Fan mode (standard fan mode), the temperature was slightly increased at 47 degrees C.
Pushing the Intel Core-i7 920 to work at 3.60GHz means that the voltage is also increased, which is translated to more heat and cooling requirements. In our case, the Intel stock cpu cooler did not help much and the temperature reached the 90 degrees C.
The GlacialTech UFO V51 Silent lowered the CPU temperature by 12 degrees C while the Titan Fernir further cooled the system down at a stunning 61 degrees C under full speed.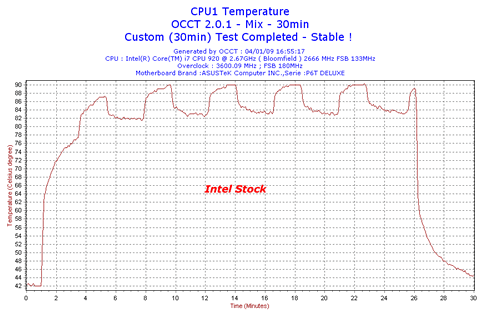 Let's see now how much noise each CPU cooler produces.
The Intel stock cooler is the quietest and the measurement we took was just 37dB. Despite its dual 92mm fans, the GlacialTech UFO V51 also was quiet with 40dB, while the Titan Fenrir is rather loud with 43dB at Q-Fan mode and over 52dB at full speed! All test results are available here.