LGA 1366 CPU Coolers: GlacialTech UFO V51 Vs Titan Fenrir
5. Titan Fenrir - a closer look
The Titan Fenrir comes in a hard plastic shell. For sure we would like to see a boxed retail case that would allow us to use the cooler without destroying the package.
The retail price of the product is around $48 - a good price for overclockers.
Below you can see the contents of the package. There are the mounting mechanisms for Intel and AMD sockets, thermal paste, a 4to3 pins adapter and a printed manual.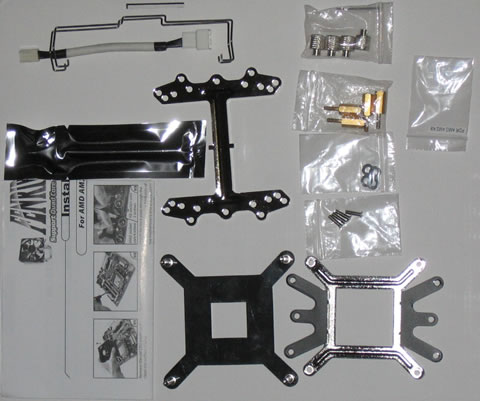 The Titan Fenrir has a rather typical design for this category, with U-shaped full copper heatpipes (8mm) and many aluminum fins.
The base of the cooler is partially covered by the copper heatpipes and also a metal plate. The surface is big enough to cover the LGA 1366 CPUs.
The 120mm fan spins at 800~2200 RPM ±10%, which should be fast enough to keep the temperature low. The supported PWM function is also useful. If your motherboard doesn't support it, simply use the included 4-to-3 pin adapter.