LGA 1366 CPU Coolers: GlacialTech UFO V51 Vs Titan Fenrir
2. GlacialTech UFO V51 - a closer look
The package for the GlacialTech UFO V51 was big for a CPU cooler so we were anxious to see the size of the device inside.
The coolers was placed in a plastic cell.
Finally you can see how exactly the cooler looks like.. Well we can say that its design reminds us of the various UFOs we have seen in Youtube videos :)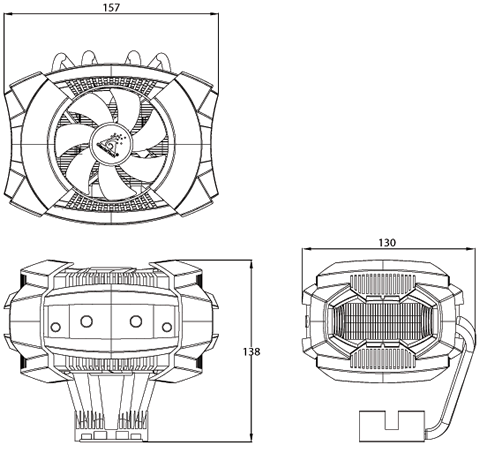 Four heatpipes with a diameter of 6mm each connect the highly polished base with the aluminum fins. Two 92mm fans bring cool air inside and direct it to the bottom side, cooling the CPU as well as other components of the motherboard (capacitors, RAM etc).
While this design may sound perfect for cooling nearby components, such products usually don't manage to deliver outstanding performance, compared with more conservative designs.
The 92mm fans doesn't support the PWM function:
The aluminum fins are not very big and they are sandwiched between two 92mm rotating fans.
The bottom base is covered with a plastic protective sticker.