Intel X38 Motherboard Roundup
4. BIOS
The BIOS is the usual for Asus motherboards.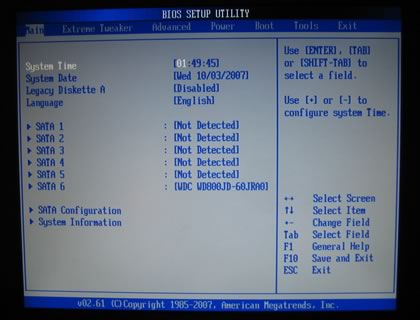 Let's see what you can expect. The Extreme Tweaker tab, includes in one page all the advanced options to overclock and make adjustments for the most important features on the board. There are two ways to overclock your system, either with Auto :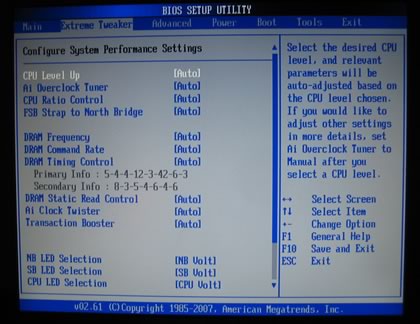 Or selecting a pre-defined CPU raw power:
More options are available in the Auto modes:
What's new, is that the FSB can go up to 400MHz, with of course the corresponding processor.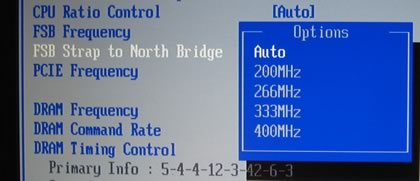 Many new memory timings, since the Intel X38 chipset offers that: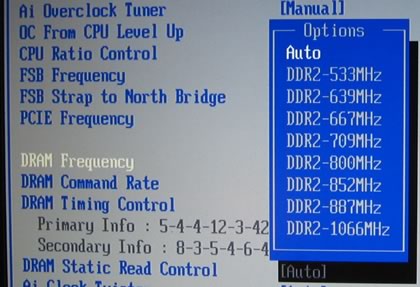 While 1T command rate is available:
DRAM timings can be either Auto adjusted by the motherboard, or you can manually select them. It's interesting to see which timings the motherboard has selected, and afterwards make your own selections.
The AI Clock Twister offers more DRAM performance.
Many options are also available for Voltages:
With the following corresponding ranges:
CPU Voltage: 1.1 ~ 2.40V with 0.025V step
CPU PLL Voltage: 1.50V ~ 3.00V with 0.02V step
North Bridge Voltage: 1.25V~1.95V with 0.02V step
DRAM Voltage: 1.80V~3.40V with 0.02V step
FSB Termination Voltage: 1.20V~2.00V with 0.02V step
SouthBridge Voltage: 1.05V~1.225V with 0.025V step
SB 1.5V Voltage: 1.50~2.05V with 0.05V step
There are several LEDs on the board that can be either turned off, or you can select what you would like them to show:
The Power sub-tab shows many interesting details like, CPU/MB/NB/SB temperatures, and of course the various voltages. Note that COP EX can be set to "protect" the motherboard from extreme temperatures:
- Installation
For all tests, we used the latest available BIOS (0503) as provided by Asus.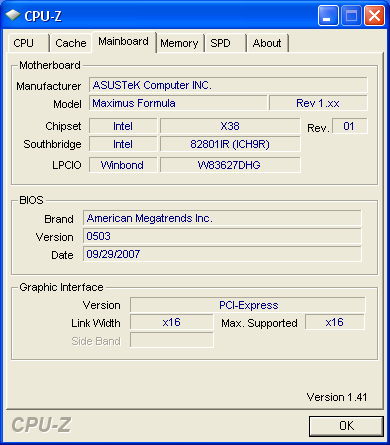 Let's now see how our CPU was identified by CPU-Z:
Our memory was set at 1067MHz, with CL5 timings.
Asus offers the AI Suite in order to monitor/overclock your system under Windows. While some settings work, we would like a total re-design since we don't like the GUI.
Last but not least, Asus offers direct BIOS update in order to eliminate problems. The good news is that you don't need floppy disks. USB sticks work just fine.