Intel X38 Motherboard Roundup
18. Conclusion
- Conclusion
Intel's X38 comes as a replacement for the 975X series. There are several new features in the X38 that may interest users, especially those that are contemplating a dual graphics card setup.
The first two motherboards that are based on Intel's X38 chipset are the Asus Maximus Formula and Gigabyte GA-X38-DQ6. Both motherboards offer DDR2 memory support and are supposed to unleash the highest performance users can buy nowadays. Comparing the X38 and P35 Express chipsets, we didn't see great differences, perhaps a small advantage for the X38 in memory bandwidth. The real strength of the X38 chipset is found in its support for full 16x speed on both PCI-e x16 lanes and the on-the-fly BIOS changes under Windows.
The Asus Maximus Formula proved to be a very good performer, taking the first place in many tests. It had higher memory performance than the Asus Blitz Formula and the Gigabyte GA-X38-DQ6. The motherboard design is almost perfect, following on the Blitz series and its "watercooling" ready feature. The backpanel is loaded with tons of inputs, even though the PS/2 mouse port has been removed. The on-board power/reset/clear CMOS buttons are a good addition and the LCD poster helps you identify possible errors and problems.
Passing to the Gigabyte GA-X38-DQ6, we noticed the low profile passive cooling system, compared with the GA-P35-DQ6. Users had complained, and Gigabyte listened and fixed it. There are 10 (!) SATA 2 inputs available for storage devices, while PS/2 Mouse/Keyboard are offered in the backpanel. Both motherboards don't offer an onboard WiFi option. The retail package is complete with more SATA cables than what Asus bundles. Note that both motherboards are carefully packaged in order to avoid transportation "hazards".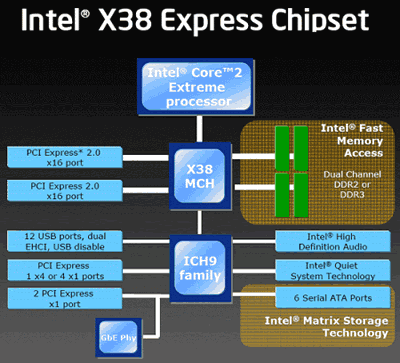 The BIOS on the Asus Maximus Formula motherboard is almost perfect. All major functions are gathered in one page, where you can set everything for voltages and memory timings, and in a very easy way. The Gigabyte GA-X38-DQ6 has improved and now memory timings are present by default. What we don't like is the fact that voltages are not displayed in absolute values but rather as offsets from a predefined voltage, which keeps you guessing as to what voltage has been selected. Very impractical in our opinion. It is also impossible to set a specific value, whereas the Asus Maximus Formula leaves no doubts.
The Asus board also offers 0.02V step (vs 0.05V) in many different settings, surpassing what the Gigabyte offers. On the other hand, Gigabyte's EasyTune Pro is better than Asus' AI Suite. With the X38 chipset, users can change voltages/memory/CPU settings under Windows without the need to reboot.
In the overclocking area, we cannot select a clear winner, both motherboards reach 480MHz FSB very easily (with Auto BIOS settings) and we are sure that with other processors and manual settings, they could reach even higher. We noticed a small weakness in the Gigabyte GA-X38-DQ6 when overclocking memory. It produced on startup, with exactly the same components, 24MHz less than it did when Windows started up, where it reached 1288MHz. The Asus Maximus Formula reached "only" 1260MHz. Both motherboards showed very good overclocking stability, being able to recover (POST) after an unsuccessful overclocking setting, especially after updating with the latest BIOS.
Moving on to the price, the Gigabyte GA-X38-DQ6 is lower priced than the Asus Maximus Formula (€242 vs €261). On the other hand, the Asus Maximus Formula is a special edition board with water cooling capabilities, so it is expected that it have a higher price and much lower availability. Below is a summary of all above thoughts and as always, you can judge for yourself, depending on your needs and decide what's best for you. For us, we liked both motherboards, each has its own positives and negatives.
| | | |
| --- | --- | --- |
| Comparison Factor | Asus Maximus Formula | Gigabyte GA-X38-DQ6 |
| Retail package | | |
| Features | | |
| Price | | |
| Bios | | |
| Performance | | |
| Overclocking performance | | |
| Overclocking stability | | |