1. Introduction
Thermaltake has a long tradition in producing cooling solutions for almost all types of computers. With laptop users becoming more prevalent, they too are facing the serious problem of heat. As a laptop user, my Asus A6JA gets really hot when the CPU and GPU are working under full load (as in the case of games). When working in the office, this isn't such a problem although, anything that can reduce the heat produced will almost certainly prolong computer lifetime. Road warriors have an even greater problem though. Where to place their laptop and most importantly, how not to get burned from the heat produced. Thermaltake has the answer, the iXoft cooling pad.
- Thermaltake iXoft cooling pad
Thermaltake Technology, the world's leading brand in high-end computer chassis, power supply and thermal solutions, is launching its latest passive notebook cooling product. Leveraging on its expertise in thermal management, as well as innovative product design capability, Thermaltake engineered a completely fanless, ultra-portable cooling device with the launch of iXoft Fanless Notebook Cooling pad.
The most innovative thermal design feature is found in its patented Heat Shift Technology, which consists of phase change material that exhibits cold and solid property when not in use then transforms into liquid form when dissipating heat away from the heat source.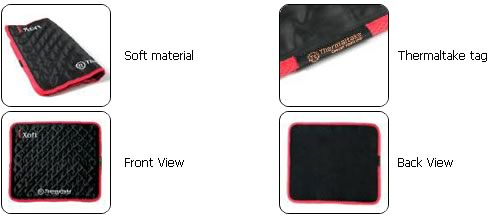 Upon contact with a heat source such as a computer notebook, iXoft quickly absorbs heat away from the source and accelerates thermal dissipation by distributing heat across all available surfaces on the iXoft pad and into the environment through natural convection.

All this is done without any moving parts which guarantees iXoft will operate continuously, without consuming any precious battery from the notebook and without producing any noise.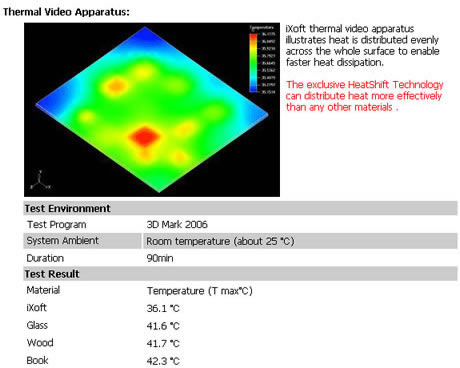 Portability played an equally important part in the design of iXoft, which weighs in at only 650g (22 ounces), making it the world's lightest notebook cooler available today. In addition to its light weight property, iXoft can also be folded for easy transportation and storage.
- Features
Revolutionary Fanless Design for absolute silence 0dBA.

Exclusive HeatShift Technology for ultimate laptop cooling

Ultra light weight for easy transportation and carrying (only 650g)

Soft and durable material designed for maximum portability

iXoft can be used as thermal mat on laps for better comfort

Application for all types of PC Notebook (12"~17")

Does not require power so PC Notebook lasts longer than using a fan!
- Specifications
P/N

Black

R15ON01

White

R15ON02

Weight

640g

Dimension

353x305x12mm

Material

Sodium Sulfate Decahydrate Na2SO4.10H2O

Noise Level

0 dBA