Intel X38 Motherboard Roundup
1. Introduction
2007 was a busy year for Intel. Apart from the Quad core processors, Intel's P35 Express arrived on the market as a replacement for the P965 series. We have already reviewed several P35 Express based motherboards, but today we have even something newer... The latest and highest end chipset from Intel, the "X38". As a replacement for Intel's 975X, it promises further performance improvement and of course higher overclocking speeds. Let's find out why Intel introduced the X38.
The main and most obvious reason for the release of the Intel X38 is the adoption of PCI Express v2.0., which supports dual PCIe x16 graphics cards! Previous chipset always had a bottleneck with either dual x8 (975X) or x16/x4 (P965/P35) when two identical graphics cards were paired. There is no information as to whether NVIDIA's SLI will eventually be supported by the X38, but for now, ATI's CrossFire is fully supported.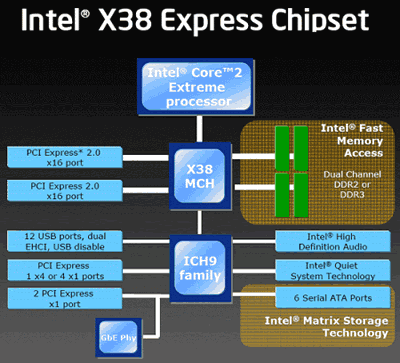 As the above diagram shows, there are still four x1 slots and one x4 slot that are connected via ICH9 and limited to PCI Express 1. The new PCI Express 2.0 promises to boost bandwidth from 2.5 GHz to 5 GHz, reaching the magic number of almost 500 MB/s. As you can imagine, the new interface can be used not only for graphics cards, but also for network adapters, sound cards, video processing cards, etc...
Something new also from the Intel X38 are the XMP profiles, similar to what NVIDIA/AMD introduced last year with EPP. Tighter timings and higher frequencies will be embedded into SPD for easier overclocking. However, there is a catch... This technology only works with DDR3 memory, not with DDR2.
Interestingly enough, Intel has "listened" to consumers and offers several advanced features for overclockers, like no overspeed protection on the chipset. This means that applications can potentially access the North Bridge and control memory timings/frequencies, check voltages and make on-the-fly changes that previously required a reboot in order to be applied. We hope that these features will be similar to what we have seen with Nvidia's nTune. Easy, clean GUI, with on-the-fly changes.
Enough talk about the X38 chipset itself, let's meet our first contester... the Asus Maximus Formula.