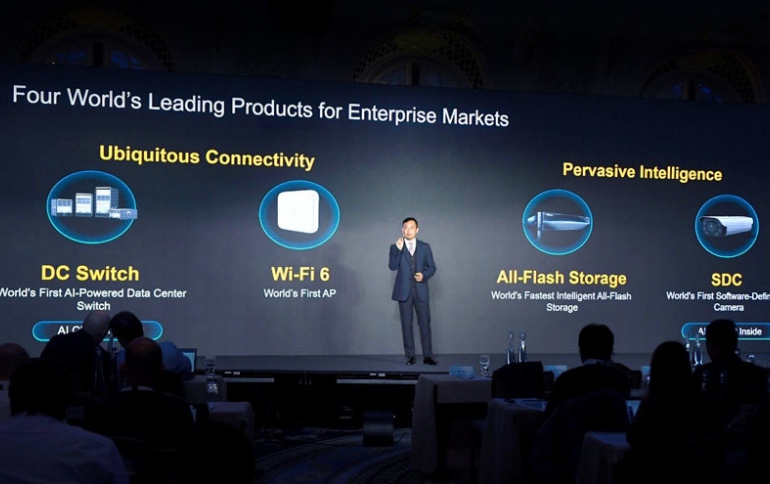 Huawei Presents New Enterprise and Autonomous Driving Mobile Networks Products
Huawei's Enterprise Business Group will showcase at MWC19 Barcelona a Wi-Fi 6 AP, an AI-powered data center switch, an Ultra-fast intelligent OceanStor Dorado all-flash storage, and the X series software-defined AI camera.
The company will also have on display a series of solutions for autonomous driving mobile networks.
802.11ax is the latest generation of Wi-Fi technology, and is known as Wi-Fi 6 in the industry. Huawei's commercial Wi-Fi 6 AP marks the first time the industry has implemented the 8x8 MU-MIMO technology, OFDMA space division multiplexing technology, and 1024QAM modulation and demodulation technology in Wi-Fi. This enables the total access rate of a single wireless access point (AP) to exceed 10 Gbps for the first time and improves the number of concurrent users by four times. In addition to offering speed, Wi-Fi 6 reduces the network latency from 30ms to 10ms, satisfying the low latency requirements of VR and enterprise networks. Huawei's Wi-Fi 6 AP has already been deployed, and with Huawei's third-generation smart antenna technology and SmartRadio air interface technology, the coverage radius of Wi-Fi 6 signals is increased by 40%.
Huawei's CloudEngine16800 is an AI-powered data center switch. Embedded with Huawei's AI chipsets, the intelligent lossless switching algorithm, iLossless, solves the packet loss issue of traditional Ethernet networks, improving the AI computing power from 50% to 100% and the data storage IOPS (Input/Output Operations Per Second) by 30%. In addition, the product provides a high density 48-port 400GE line card per slot and its switching capacity exceeds the industry average by five times. Huawei says that a fully-equipped single frame saves 320,000 kilowatt-hours per annum.
Huawei's OceanStor Dorado intelligent all-flash storage products are tailored for the enterprise market. They boost fast performance (7,000,565 SPC-1 IOPS) and high reliability (0.5ms stable latency). To date, OceanStor Dorado has achieved large-scale commercial use in seven of the world's top 20 banks.
Huawei's X series cameras, equipped with Huawei AI chipsets, can define scenarios as required, implement layered intelligence, sense their own status, adapt to scenarios, and ensure continued service. Using a one-to-many connection function, the software-defined AI cameras can also "lend" their AI computing power to traditional cameras, effectively upgrading them to AI cameras.
Huawei has also released a series of solutions for autonomous driving mobile networks, including the MBB Automation Engine (MAE) and BTS5900 series base stations with powerful computing capability. These products can help operators achieve automation in all scenarios, reduce OPEX, and accelerate 5G construction by providing O&M efficiency, resource efficiency and energy saving efficiency.
As the brain of mobile networks, the MAE is the management and control engine that implements wireless network automation. The MAE enables a shift from network element-oriented O&M to scenario-oriented O&M, migrating from a simple network management framework to a convergence of network management and control. Based on the cloud data platform, network prediction and reasoning capabilities, the MAE provides various scenario-oriented solutions appropriate to needs of an operators' network deployment, maintenance, optimization, and service provisioning. The MAE also realizes the end-to-end closed-loop automation of each process.
This series of solutions also includes BTS5900 series base stations with improved computing capability of 8 T FLOPS, which supports the automation of wireless networks. These product features both accurate radio resource management and powerful computing, to help realize scenario-specific automated management and control.
In the 5G era, with a faster bit-rate growth of MBB networks, base stations need to manage radio resources more accurately and maximize resource utilization. Taking channel status management as an example, description factors of the channel status are added. Channel change trends can be matched and predicted in real time. Thus, the channel can be adjusted to use the proper codec rate promptly.
Since the radio resource status managed by the base station changes every 0.1 ms, accurate management and calculation need to be completed in a very short time. The shorter the processing time, the greater the required computing capability. Therefore, strong computing is required to support accurate management.
Huawei claims that multi-layer collaboration between the MAE and BTS5900 series base stations with more powerful computing capability, enables automation in all scenarios, improving the O&M efficiency by 10 times, improving user experienced data rate by 30%, and saving energy consumption by 30%.