HLDS portable DVD Android external Recorder
11. CD-R Writing Tests
According to HLDS the drive supports "best" the following media:
Since we had limited amount of media in our labs, we tested with the following discs
Verbatim 80min 52X Rated - CMC Magnetics
For our tests we used Verbatim branded media (CMC Magnetics) with 80min (800mb) capacity. The Drive can write up to 24X with almost perfect CAV ( Constant Angular Velocity) and the end reached 24.45X.
The same disc is read perfectly from the drive from 10.36X will 24.70X: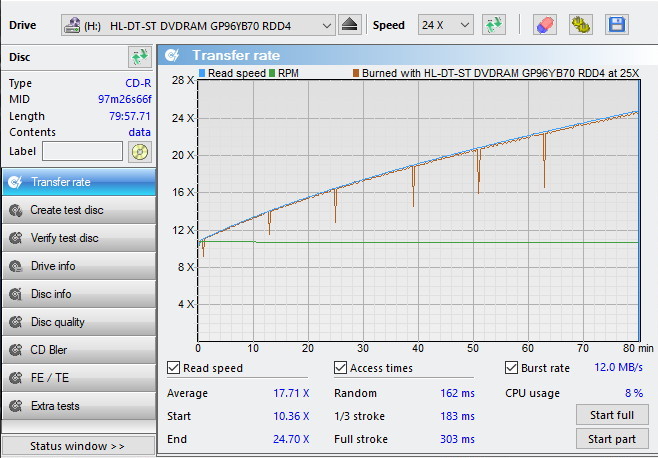 Using the Disc Quality measurements from the same drive, we can see very low C1/C2 reported errors.
Using the Quantized Systems ICQ omni system, we also measured the C1/C2 and Jitter of the above written disc with very good quality measurements. Due to the nature of the drives internal reading, no measurement can be 100% exactly the same as the other, so there will be variations even reading the same disc several times. The below graphs have the purpopose to give us a the trend of the burned disc by looking at the reported (measured) errors.
The OptiDriveControl reports low C1 errors and also low Jitter among the entire surface of the disc.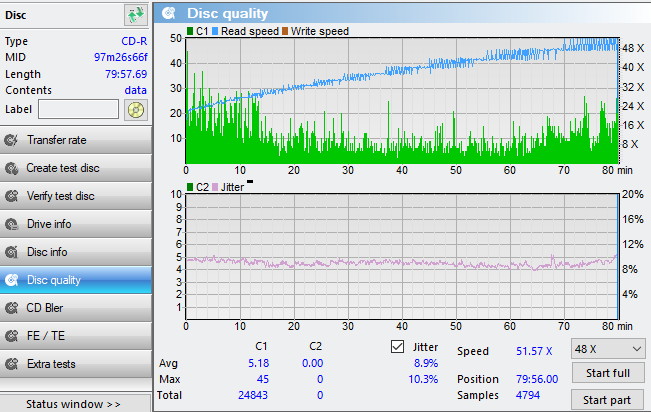 The NeroCD-DVDSpeed also confirmed the above finding, even with some variation at the Jitter.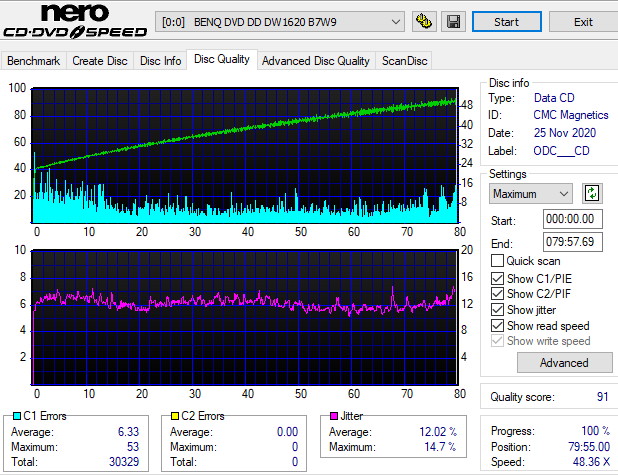 The drive also reports BLER, E11, E21, E31, E12, E22, E32 information, which are also is very low
The Nero CD-DVD Speed also gives a score of the disc, due to some E22 errors at the end of the disc categorized the disc at Class 3.
Imation (Ritek_ 52X 700MB CD-R Disc
Using a second CD-R test disc from Imation we got very good performance as well. The drive starts writing at 17.35X and ends at 24.28X.
reading the disc with the drive produces perfect reading curve.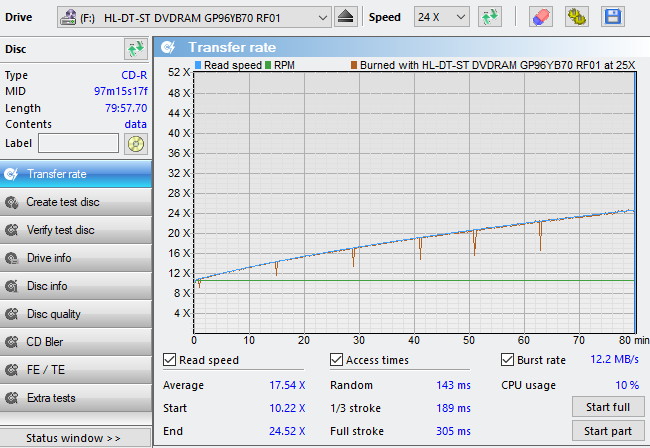 while scanning the disc with the Disc Quality gives very good results with low C1 and no C2 errors.
Using another drive from Benq, it gives us higher C1 (due to 48X reading speed), while Jitter seems slight increased at the end of the disc.