HLDS portable DVD Android external Recorder
19. DVD-R DL Quality
The DVD-R DL media we tested comes from Verbatim (Mitsubishi Kagaku Media (MKM) and as we can see is in the supported media list of the drive.
The drive uses P-CAV technology to write DL (double layer) media. It starts writing from 1.96X and reaches 6.00X after the 2.2GB mark and stays there until the 5.8GB mark, which again reduces speed down to 3.25X, resulting an average of 4.99X.
The drive can read the burned disc without any issues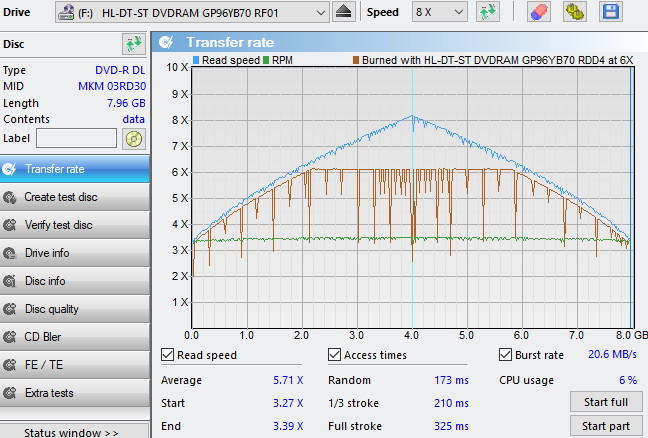 while all contents are being verified OK!
Quality Measurements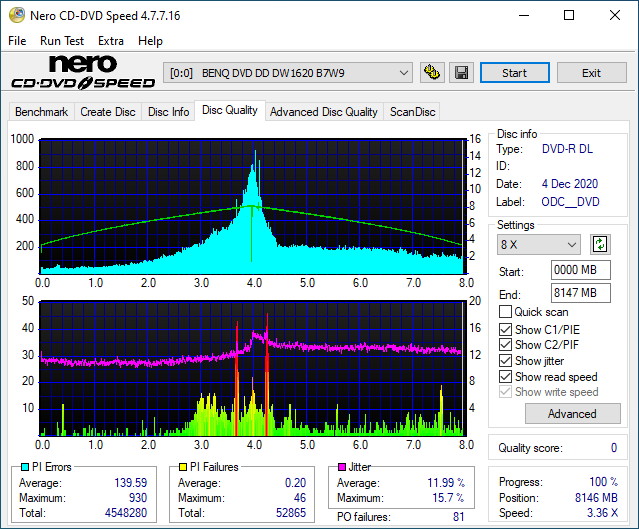 Quality Summary Verbatim (MKM) 8X DVD-R DL Media

Media

Scanning Speed (Average)

PIE Errors (Average)

PIF Errors (Average)

POF Errors

Jitter Average (%)

HLDS GP96Y

3.40X

76.04

0.04

0

-

Benq DW1620

8.25Χ

139.59

0.20

81

11.99%

Pioneer BDR-206M

4.86Χ

3.61

0.01

Drive stops reporting errors at layer brake

-

LiteOn iHAS-124F

3.34X

47.24

0.06

0

11.30%

LiteOn iHAS-324F

3.36X

86.45

0.06

0

11.80%
The Verbatim 8X DVD-R DL, while burned OK and verified OK, it seems to have produced high spikes that most of the tested drives reported. We aren't so sure if this a problem with the specific batch of media we have or general...Unfortunaly we dont have other DVD-R DL media in our labs to test the HLDS drive.