HLDS portable DVD Android external Recorder
23. DVD+R DL Quality
The drive uses P-CAV technology to write DL (double layer) media. It starts writing from 1.84X and reaches 6.00X after the 2.2GB mark and stays there until the 5.8GB mark, which again reduces speed down to 3.21X, resulting an average of 4.93X.
Quality Measurements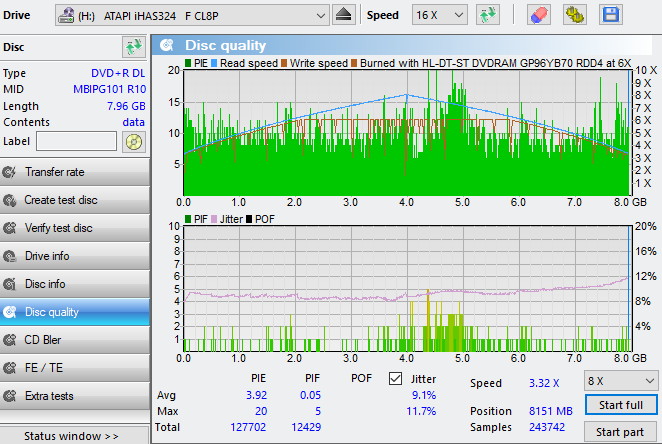 Quality Summary Sony (MBIPG101) 8X DVD+R DLMedia

Media

Scanning Speed (Average)

PIE Errors (Average)

PIF Errors (Average)

POF Errors

Jitter Average (%)

HLDS GP96Y

3.35X

4.17

0.03

0

-

Benq DW1620

3.33Χ

6.65

0.06

0

9.25%

Pioneer BDR-206M

Drive stopped at layer brake

LiteOn iHAS-124F

3.32X

5.07

0.05

0

9.40%

LiteOn iHAS-324F

3.32X

3.92

0.05

0

9.10%
The Sony 8X DVD+R DL media managed to performed in general very good with low PIE/PIF errors. For a strange reason the Pioneer BDR-206M drive stopped reading the disc at layer brake, perhaps a firmware incompatibility.