GlobalSat BTA-806, BTA-830 and BTH-820
3. The BTH-820
- BTH-820
The GlobalSat BTH-820 Bluetooth Headset, is designed for wireless mobile audio devices powered with Bluetooth technology, such as mobile phones, PDAs and notebook computers. The Bluetooth Headset is small, about half the size of a credit card that also looks attractive. You can wear it on your clothes by clipping it onto a pocket or collar, or just hang it freely from a neck loop as a pendant.
The BTH-820 gives you excellent audio quality by using Bluetooth technology (supported profiles: A2DP, AVRCP, Headset, and Handsfree). It eliminates the need for a physical connection and gives you total wireless mobility at a range of up to ten metres.
It also fully supports mobile phones over Bluetooth. It can receive and answer a phone by wireless communications, moving freely while your phone stays in your briefcase, the desk drawer, or even the next room. The interchangeable headset allows you to use different headphones so you can personalize it to the performance of your choice.
- Features
1. Light weight and handy design
2. Press any button to receive a call
3. In headset mode, you can adjust the volume and refuse to answer calls
4. You can answer the call while listening to music, and the music will resume automatically after you hang up the phone
5. Built-in Hold key and microphone
A2DP+AVRCP Profile
6. You can control the "play", "pause", "stop", "next song" and "previous song" of the Windows Media Player. Known Supported Device: Globalsat: BTA-806 / BTA-804A
A2DP Profile
7. You can control the play/mute, volume up and down of BTH-820.
8. Bluetooth version 1.1 / 1.2 / 2.0 compatible.
9. Operation range up to 10 meters. (Open Space)
10. Stand-by time up to 100 hours.
11. Embedded rechargeable Li-polymer battery.
12. LED indicator for low power and charging.
Specification:
Model Name BTH-820
Product Description Bluetooth Stereo Headset
Color Blue / Orange
Certification FCC, CE, BQB
Bluetooth Version Bluetooth v1.2 Specification
RF Output Power Class 2
Frequency Band 2.4GHz ~ 2.4835GHz unlicensed ISM band
Spread Spectrum FHSS (Frequency Hopping Spread Spectrum)
Operating Range 10 meters (32 feet)
Sensitivity -80dBm @0.1%BER
Bluetooth Profile Headset,Handsfree,A2DP,AVRCP
Stereo Audio Specification CD-Quality, 44.1, 48KHz 16-bit Stereo Audio Codec
Standby Time Up to 100 hours
Play Time Up to 5 hours
Charging Time Up to 2~3 hours
Talking Time Up to 6.5 hours
Audio input Bluetooth signal
Audio Output 3.5 mm stereo jack
LED Indicator 2 LEDs (Blue and red)
Battery Rechargeable Li-Polymer battery
Operation Temperature -10 ~ 55 ΆJ
Storage Temperature -20 ~ 60 ΆJ
Humidity 10% ~ 90% non-condensing
Dimensions 63.5x28.5x18.5mm(L x W x T), Including back clip
Weight 19 g
Microphone Embedded microphone,(To avoid the noise interference, please put the microphone within 30 cm from your mouth while talking.)
- Package
For our test purposes, we received the retail package for the Bluetooth Wireless Entertainment pack, which includes the BTH-820 and BTA-830 devices, a stereo ear-bud, a spare set of headset ear-buds, a USB Y charging cable and a USB AC charger. The retail price is around US$88.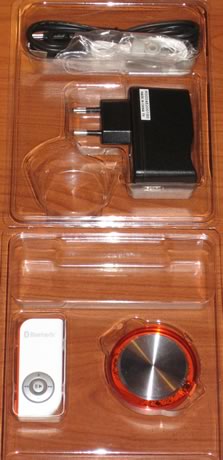 The BTH-820 device is rather small. The controls are on the front have different functions depending on the situation (incoming call or playing music).
On the left, we have the power on/off/pair button and the charge jack, protected by a rubber cover.
On the top side, there's also a 3.5" input jack for connecting any type of earphones:
Lastly, on the back, there's a clip so you can attach it to your clothing and some device information hidden underneath the clip.