1. Introduction - Features
Globalsat announced back in March the next generation of BT GPS products, the BT-359 series. This new line offers the power of the SiRF III chipset with a new and attractive design and superb performance. We test the new Globalsat BT-359S alongside its younger brother, the BT-338, under various environmental conditions.
- Globalsat BT-359S
The BT-359 series is the next generation Bluetooth GPS receiver. Globalsat's new top of the line bluetooth GPS is both stylish and functional in true GlobalSat tradition. Taking its design criteria from the market leading BT-338, Globalsat have pushed the limits of GPS even further with greater sensitivity, more accuracy, and longer battery life than ever before.
The GlobalSat BT-359 contains the latest SiRF III Low Power Chipset for high sensitivity. It communicates with Host Platforms (PDA, Laptop, etc.) via Bluetooth Serial Port Profile. With Bluetooth version 2.0 and a built-in ceramic patch antenna, the BT-359 provides faster acquisition times and improves accuracy in urban canyons and under dense foliage. It contains a replaceable battery with a large capacity, which enables the BT-359 to operate for up to 11 hours. A slide battery lid makes it easy to remove and replace the battery without the use of tools. It also supports WAAS and EGNOS for even greater accuracy.

Available in two styles the BT-359S has a solar-look design and the BT-359W has a wave-look design.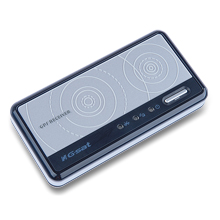 - Features
•
SiRF Star III high performance and low power consumption chipset
• Communications with Host platform Via Bluetooth Serial Port Profile
• Bluetooth Version 2.0.
• Built-in ceramic patch antenna.
• High sensitivity GPS receiver provides faster acquisition times and improves accuracy in urban canyons and under dense foliage.
• Battery life up to 11 hours of operation time, in continuous mode.
• Features power saving mode (powers down after 10 minutes of inactivity).
• Supports WAAS and EGNOS Satellite-Based Augmentation Systems for more accurate corrected position reports.
• Physical dimensions: 82.0 mm x 41.0 mm x 13.4 mm.
- Used chipset
The SiRF III chipset has the following specifications:
Chipset:

SiRF Star III WAAS enabled

Frequency:

1, 1575.42 MHz

C/A code:

1.023 MHz chip rate

Channels:

20 channel all-in-view tracking

Sensitivity

Acquisition: -148dBm
Tracking: -159 dBm

Position Accuracy:

10 meters, 2D RMS

~ 5 meters, 3D RMS WAAS

Velocity:

0.1 m/s

Time:

us synchronized to GPS time

Default:

WGS-84 Acquisition Time (Open sky, stationary)

Reacquisition:

0.1 sec., average

Hot start:

1 sec., average

Warm start:

38 sec., average

Cold start:

42 sec., average

Altitude:

18,000 meters (60,000 feet) max.

Velocity:

515 meters/second (1000 knots) max.

Acceleration:

Less than 4g

Jerk:

20 m/sec

Protocol messages:

NMEA-0183 output protocol,

Bluetooth Interface

Baud Rate 4800bps

Output format:

GGA(1sec), GSA(5sec), GSV(5sec), RMC(1sec)

Operating temperature:

-20° to 60° C

Humidity:

5% to 95% Non-condensing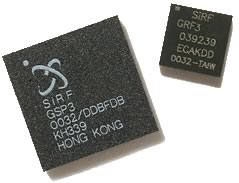 Looking at the SiRF III specs, we notice that the chipset is capable of receiving up to 20 satellites (actually 12 maximum), has very low Hot/Warm/Cold start times and its accuracy reaches ~5m when WAAS mode is enabled.
The main differences between the BT-338 and BT-359S are:
Different external design (BT-359S is much slimmer)
BT-359S uses BT v2.0 vs BT v1.1 of BT-338
11 hours operation time vs 16 hours (BT-338)
USB vs AC/DC charger interface