GlobalSat BTA-806, BTA-830 and BTH-820
5. The BTA-830
The GlobalSat BTA-830 turns your iPod or any other portable/desktop device into a wireless music center. Using the latest innovative Bluetooth technologies, the Audio Gateway transmits digital sound to compatible Bluetooth audio receivers up to 10m away.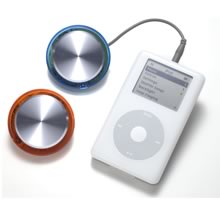 The BTA-830 audio kit consists of a receiver that connects to your iPod and a Bluetooth headset. It is a simple plug-and-go device which supports the standard Bluetooth A2DP profile for consistent and clear stereo sound quality.
The BTA-830 offers both digital music and mobile communications features in a portable player about the size of a pack of cards. It also gives any non-Bluetooth device the ability to work with a Bluetooth headset and enables your audio device to transfer the stereo audio signal wirelessly to the BTH-820 or any of the Bluetooth headphones.
Pairing the BTA-830 with cell phones and any audio device is a breeze. Just plug the BTA-830 into the headphone jack of your iPod, PDA, MP3, CD, mobile phone, or PC/laptop computer to listen to your favorite music through your BTH-820 or other Bluetooth Audio Device.
- Features
1. Plug-and-Play
2. Support standard A2DP profile for consistent and clear stereo sound quality.
3. Compatible with portable CD player, MP3 player, TV, DVD player and more.
4. Divert the high quality audio from wired to wireless.
5. Outstanding performance enables you to enjoy the true digital sound with CD stereo quality.
6. Fast and simple one-button operation.
7. Bluetooth version 1.1 / 1.2 / 2.0 compatible.
8. Operation range up to 10 meters. (Open Space)
9. Stand-by time up to 100 hours
10. Embedded rechargeable Li-polymer battery
11. LED indicator for low power and charging.
- Specification
Model Name BTA-830
Product Description Bluetooth Stereo Audio Gateway
Color Blue / Orange
Certification FCC, CE
Bluetooth Version Bluetooth v1.2 Specification
RF Output Power Class 2
Frequency Band 2.4GHz ~ 2.4835GHz unlicensed ISM band
Spread Spectrum FHSS (Frequency Hopping Spread Spectrum)
Operating Range 10 meters (32 feet)
Sensitivity -80dBm @0.1%BER
Bluetooth Profile A2DP
Stereo Audio Specification CD-Quality, 44.1, 48KHz 16-bit Stereo Audio Codec
Standby Time Up to 100 hours
Play Time Up to 5.5 hours
Charging Time Up to 2~3 hours
Audio input 3.5 mm stereo plug
Audio Output Bluetooth signal
LED Indicator 2 LEDs (Green and red) or (Blue and red)
Battery Rechargeable Li-Polymer battery
Operation Temperature -10 ~ 55 ΆJ
Storage Temperature -20 ~ 60 ΆJ
Humidity 10% ~ 90% non-condensing
Dimensions 54.5x54.5x17.5mm(L x W x T)
Weight 29 g
- Package
For our test purposes, we received the retail package for the Bluetooth Wireless Entertainment pack, which includes the BTH-820 and BTA-830 devices.
The BTA-830 device is round and available in orange or blue. On the top there is only the mini-USB jack that is used to charge the device.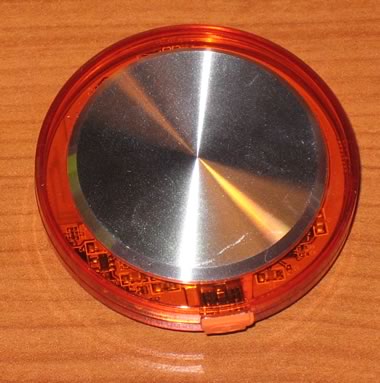 Underneath, there is the power on button and the 3.5mm jack that connects to any device with an Audio Out jack.
- Installation
The BTA-830 can be installed on virtually all devices with an Audio Out jack, (e.g. minidiscs, IPods, CD players, TVs, DVD Players, Desktop PCs, PDAs, PSP, etc.). In order to pair it with the BTH-820 or any other BT Headset, you need to keep pressing the power on button for 6 seconds, when the device will blink red/blue, indicating it is in pair mode. At the same time, the BT headset should be in pair mode. Both devices will auto-pair and then you are ready to use it.