GlobalSat BTA-806, BTA-830 and BTH-820
2. BTA-806 Installation
The BTA-806 can be easily installed, even by inexperienced users. You only need to run setup program on the included CD.
After rebooting and installing the Bluetooth Dongle, you can access the main menu after first setting several details: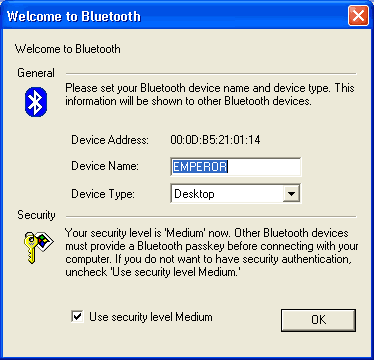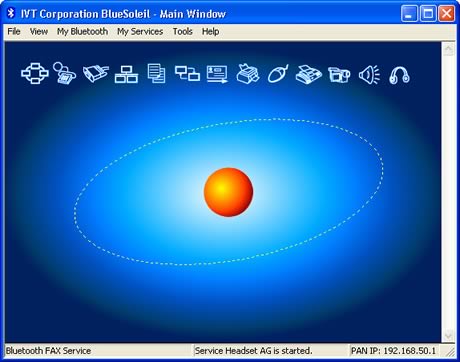 The included IVT BlueSoleil driver pack version was 2.0.0. EDR 051103
The software automatically searches for new versions. In our case it found a newer one, which was however impossible to download, since the hyperlink wasn't working...
Let's have a look at the BlueSoleil software installed on our PC and what we can do with it. At the top (see photo below), we have several icons which represent Bluetooth services, while at the center (sun) we can see our host PC and any discovered devices orbiting around it.
First off, we tried to "pair" a mobile phone (Sony Ericsson K750i).
You need to know the passkey:
Once connected, we could access the mobile's phone shared folders:
Some additional information about the K750i Bluetooth device:
In the status page, we can see the port activity as well as various other information such as signal strength:
Time to connect another device, a PDA this time (Dell Axim x50V). Again, you have to type in the passkey and "pair" the device:
We can now see some information about the Bluetooth properties of our PDA:
We next paired our BT GPS device (Haicom 406BT-C), which was connected on an unused COM port (COM6 in our case). With the appropriate GPS navigation software, you can now find your way around the world :-)