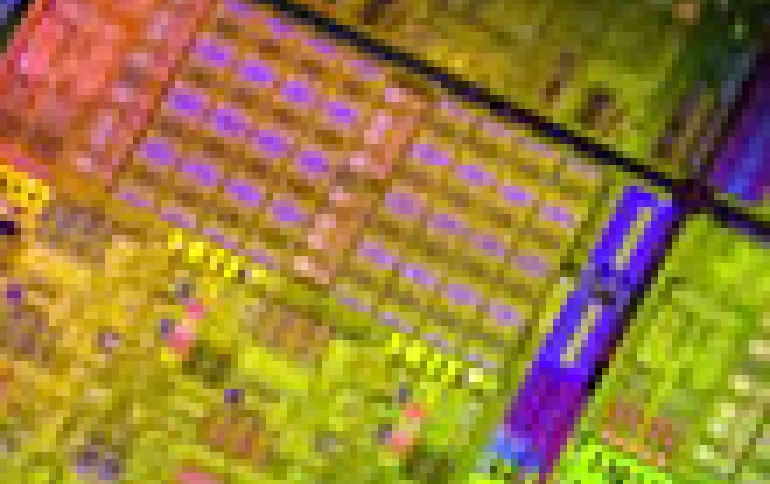 GLOBALFOUNDRIES Debuts 7nm FinFET Technology, Embedded MRAM
GLOBALFOUNDRIES today announced plans for a 7nm FinFET process that can deliver chips with up to 30% more performance or 60% less power consumption than its current 14nm node. 7nm FinFET Technology
The company's 7nm FinFET technology is expected to be ready for customer product design starts in the second half of 2017, with ramp to risk production in early 2018.
GLOBALFOUNDRIES made a decision to jump directly from 14nm to 7nm. The company's new 7nm FinFET platform is based on an industry-standard FinFET transistor architecture and optical lithography, with EUV compatibility at key levels. The company says that the approach will accelerate the production ramp through re-use of tools and processes from the company's 14nm FinFET technology, which is currently in volume production at its Fab 8 campus in Saratoga County, N.Y. GLOBALFOUNDRIES plans to make an additional multi-billion dollar investment in Fab 8 (Malta, north of Albany) to enable development and production for 7nm FinFET.
Prototype chips running in the company?s Malta fab now have 7nm blocks on them with general availability of the process expected before the end of 2018. Meanwhile the Albany center is now seeking a path to 5nm with EUV.
GLOBALFOUNDRIES' 7nm node represents a full 30% die shrink from its 14nm process. It could pack 17 million gates in a square millimeter of silicon.
The process is geared for the same kinds of premium cloud and smartphone processors as today's 14/16nm nodes. An ARM Cortex-A72 core could run at more than 3.5 GHz in the process, the company estimates.
The process supports 17 layers of metal and could require 80-84 masks steps to handle up to quad patterning on some critical layers. The biggest challenge with the process today is in parasitics and yields for the middle metal layers connecting transistors to chip wiring.
GLOBALFOUNDRIES will deliver an IP library, co-optimized with process development. To help its customers to accelerate adoption of 7nm FinFET technology, GLOBALFOUNDRIES has expanded its partnership with INVECAS beyond 14LPP and FDX processes to now include foundry IP development for 7nm process technologies.
The news, detailed today in a meeting with about 500 customers, boosts the foundry's competitive position against larger rivals such as TSMC. Both the 7nm and FD-SOI technologies are largely the heritage of IBM's semiconductor group that officially merged with Globalfoundries in July 2015.
However, Intel, the world's largest semiconductor company, is still a step ahead of all comers with its process technology. although the company recently re-booted it?s still fledgling foundry operations. It is ramping a 10nm process now which some observers suspect will be the technical equivalent of 7nm nodes from Globalfoundries and TSMC. The processes essentially push quad-patterning to its limit with plans to migrate to extreme ultraviolet (EUV) lithography when it is available.
Samsung, second only to Intel in semiconductors, is in a race for third place in foundry services. Like TSMC it developed a 10nm node ramping next year, largely in an effort to win the business of making the A-series processor in Apple's next iPhone.
Some suggest Samsung hopes to roll out a more advanced process by 2019 based on EUV systems which have so far not delivered the throughput and reliability needed for mass producing chips. The Korean giant developed the 14nm FinFET process Globalfoundries licensed in April 2014 to compete with TSMC.
Embedded MRAM on 22FDX Platform
GLOBALFOUNDRIES also today announced that it will support a new embedded MRAM in sub-Gbit densities starting in 2018 for chips made in its 22nm fully depleted silicon-on-insulator (FD-SOI) process.
The embedded magnetoresistive non-volatile memory technology (eMRAM) is exoppected to provide system designers with access to 1,000x faster write speeds and 1,000x more endurance than today?s non-volatile memory (NVM) offerings. 22FDX eMRAM also features the ability to retain data through 260°C solder reflow, industrial temperature operation, while maintaining an industry-leading eMRAM bitcell size.
GLOBALFOUNDRIES' eMRAM will be offered initially on its 22FDX platform, which leverages the first 22nm fully-depleted silicon-on-insulator (FD-SOI) technology. This eMRAM technology is designed for both code storage (flash) and working memory (SRAM) to enable efficient memory sub-systems that can be power cycled without any energy or performance penalty. It could also support fast buffers for computer vision chips and eventually be used to replace SRAM in an L3 cache for processors made in its 14nm node.
The density of the embedded offering will vary depending on chip designs, said Gregg Bartlett, head of CMOS products for Globalfoundries. The eMRAM cells sport write speeds "in nanoseconds not microseconds" he said.

The introduction of GLOBALFOUNDRIES' 22FDX eMRAM is a result of the company's partnership with MRAM pioneer, Everspin Technologies. The partnership has already delivered the world's highest density ST-MRAM in August, 2016 - Everspin's 256Mb DDR3 perpendicular magnetic tunnel junction (pMTJ) product, which is now successfully sampling and is being readied for mass production at GLOBALFOUNDRIES.
GLOBALFOUNDRIES' 22FDX eMRAM is currently in development and is expected to be available for customer prototyping in 2017, with volume production in 2018. A recently announced 12nm follow-on won?t be ready until 2019.
The eMRAM technology is scalable beyond 22nm and is expected to be available on both FinFET and future FDX platforms.
Globalfoundries made no mention of plans for 2.5D or 3D packaging with its 28nm planar process, an area where TSMC has made significant inroads with products such as Nvidia's Pascal GPU. The company saus it is ready to support 2.5D and 3D with its 14nm and 7nm nodes.