2. How we test
- Setup
Here is our test PC setup:
Motherboard: Asus Stiker II Extreme Bios 1403 (Nvidia 790i Ultra SLI)

Processor: Intel Q9300
Case: Open Air testbed
Power Supply: OCZ GameXStream GXS600 SLI-Ready
Memory: 2x1GB Supertalent DDR3-1600 (1333MHz@ 7-7-7-20-1T)
HDD: WD 200JB 7200RPM
Monitor: LG L246WH-BH 24"
Windows VISTA SP2 32bit with all the latest updates installed
Latest DirectX libraries
AMD Catalyst v11.2
Many games and applications were used in order to measure the performance (FPS) of each card.
DirectX 9
3DMark 05 v1.30
3DMark 06 v1.20
Crysis WarHead v1.00 Retail
Far Cry 2 v1.02 retail
Lost Planet 2 Benchmark
DirectX10
3DMark Vantage v1.02
Company Of Heroes v1.7.1
Crysis WarHead v1.00 retail
Far Cry 2 v1.00 retail
Left4Dead v1.00 retail
Urigine Heaven Benchmark v2.00
StreetFighter IV Benchmark v1.00
Stalker: Call Of The Pripyat Benchmark v1.00
DirectX11
3D Mark 11 v1.00
Dirt 2 v1.01 retail
Alien Vs Predator Benchmark v1.03
Lost Planet 2 Benchmark
- Testbed DirectX9
For all the tests we used the default settings for 3DMark05 as you see below:
Again we left all the settings to default:
- Testbed DirectX10
We used the three built- in benchmarks to test the performance of each graphics card. We measured the performances at various resolutions using the "Performance" and up to the "Extreme" settings.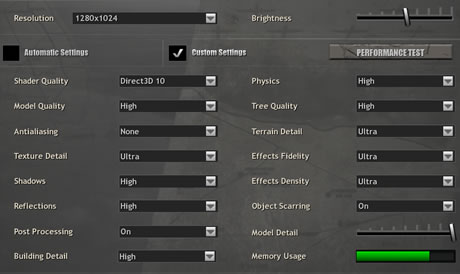 We used the built in benchmark with all the details maxed out.
We used the FRAMEBuffer benchmark tool for the resolutions of 1280x1024, 1680x1050 and finally 1920x1200. We used all the possible quality levels to get an idea what the graphic card can do at each corresponding resolution.
We used the built-in benchmarking utility and maxed out all visual details, under both DX9/DX10 and settings up to 16x AA/16x AF.