Pioneer BDR-206MBK BDXL Burner review
1. Meet the Pioneer BDR-206MBK BDXL Burner
The Pioneer BD-R206M series of Blu-ray disc drive's are the industry first than can write up to 128 Gbytes on a single BDXL Quad Layer disc (equal to 27 single layer DVDs). Designed for professional users, this computer drive allows users to author high-definition Blu-ray Disc content while also delivering the ability for high-capacity data storage. The drive can read BD-ROM discs, read/write triple/dual/single layer BD-R and BD-RE discs, read DVD-ROM, and read/write most DVD and CD recordable media formats.
Compared to the single and dual layer Blu-ray disc formats, the BDXL still uses the Partial Response - Maximum Likelihood (PRML) data recover methods and 17PP channel modulation. However, BDXL features an increased linear density. Therefore Limit equalizer jitter on BDXL is no longer measurable. Instead, the i-MLSE (Maximum Likelihood Sequence Error estimation) method is used for the disc evaluation. In other words, while the SL and DL Blu-ray formats can achieve a good enough error rate without applying a ML technique like Viterbi decoding, the BDXL format requires the use of an ML technique in order to have a sufficient error rate. In addition, the thickness of the BDXL discs' spacer (layer) is different than BD SL and DL to avoid any optical interference issues introduced by the disc's multi-layers. For both TL and QL, the BDA has specified 2X and 4X recording of 72~144Mbps user transfer rate.More information on the BD XL format is provided in the following pages.

The Pioneer BD-R206M writer also provides a maximum write speed of 6X with BD-R SL media (25GB). It is able to burn and read 3-layer and 4-layer BD-R XL (100GB and 128GB) and 3-layer BD-RE XL (100GB) discs at 2X/4X and and 2X speeds, respectively. By the time we write this article, only BD-R TL (100GB) are available at the market, so we will test the drive using this disc.
The drive is compatible with the Blu-ray 3D format and of course is also capable of writing on BD-R's (6X), BD-R DL (6X), BD-R LtH (6X), BD-RE SL /DL at 2x, DVD recordables (SL / DL) at 8X max, DVD-RW at 6X, DVD+RW at 8X, DVD-RAM at 5X and CD-R/RW at 24X.
Key technologies engineered into the BDR-206MBK include:

- Limit Equalizer technology: the technology purifies unclear signals generated when reading data on BD discs and improves reading quality.

- Disc vibration Resonance Stabilizer dedicated for precision writing in a high speed environment: high speed disc rotation causes disc warping due to disc resonant vibration. This results in unstable writing quality, especially in the outer areas the newly designed top chassis, air flow caused by the high speed rotation will press the disc.


- Airtight design: the writer's airtight sealed housing prevents dust ingress to stop impurities impacting read/write quality. It also significantly reduces operating nose to enhance applications such as listening to music or watching movies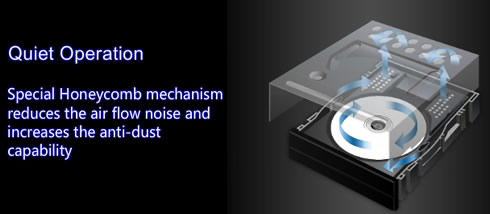 - PowerRead: the PowerRead function ensures that discs in a bad condition (e.g with light scratches, and fingerprints and stains) can be play backed. The feature has been designed to enable smooth playback of BD and DVD video discs and it requires a compatible software.
There is a difference between how AV and PC handle discs that are difficult to read. In a standard PC environment, DVD-Video is treated as 1 type of data; therefore, if a section is deemed unreadable, playback will stop. With PowerRead, the user-experience is similar to the AV side, making it possible to play the remainder of the disc. Note that with PowerRead, unreadable DVD or Blu-ray disc contents remain unreadable. PowerRead skips to the next readable address. PowerRead can be used for BD/DVD media that have been recorded in the BDMV/BDAV and DVD video/VR formats.
- PureRead: In addition, the drive features the "PURE READ " function, to compensate the digital noise introduced when a scratched or dusty audio CD is reproduced. The idea behind PURE READ is to try and correct damaged sectors, which are read from the Audio-CD. The feature re-reads damaged sectors to see if it can recover them. When these damaged sectors are read in a normal scenario, the sector may well be read without any serious error, but sometimes pops or crackles can be heard in the final ripped file. When a sector that is difficult to read is detected, the laser tries to re-read the damaged sector. Not just re-reading the sector, but the drive will actually adjust its read parameters (I.E. higher or lower laser power and the angle of the laser beam are adjusted) to try and get the best possible read-back from that damaged sector. An algorithm calculates the "best" or "average" result it achieves, and that information (I.E. the best-possible result) is then used as part of the final file. The Pure Read function is supported by (B's Recorder GOLD9, Windows Media Player 9 and Windows Media Player 9 software players.

The BDR-206MBK is currently sold in Europe to Pioneer's OEMs and direct to consumers from Pioneer distributors . U.S. consumers have the chance to get the BDR-206MBK now for a suggested retail price of $199. The U.S. bundle includes CyberLink's BD software which allows users to write to BDXL media plus author and playback BD and DVD movies as well.
Below you see the drive's specifications:
Discs compatible for burning
BD

BD-R (Single / Dual / Triple (BD-R SL/DL/TL)/ Quadruple layer (BD-R QL))

BD-RE (Single / Dual / Triple layer (BD-RE SL/DL/TL)

DVD

DVD-R , DVD-R DL, DVD-RW, DVD + R, DVD + R DL, DVD + RW

DVD+RW, DVD-RAM

CD

CD-R, CD-RW, HS CD-RW, US CD-RW, US + CD-RW

Discs compatible for playing
BD

BD-ROM (Single / Dual layer), BD-R (Single / Dual / Triple / Quadruple layer), BD-RE (Single / Dual / Triple layer)

DVD

DVD-ROM (Single / Dual layer), DVD-Video, DVD-R, DVD-R DL, DVD-RW

DVD+R, DVD+R DL, DVD + RW, DVD-RAM

CD

CD-ROM (Mode 1 & 2), CD-ROM XA, Photo CD (Single / Multi-session)

Video CD, CD-DA, CD-Extra, CD-R, CD-RW

Interface

Serial ATA Revision 2.6

Write speeds

BD

-R

6x Z-CLV, 4x CLV, 2x CLV

-R DL

-R Triple layer (TL)

4x CLV, 2x CLV

-R Quad Layer (QL)

-R (LtH)

6x Z-CLV, 4x CLV, 2x CLV

-RE

2x CLV

-RE DL

-RE TL

DVD
-R

8x Z-CLV, 6x Z-CLV, 4x CLV, 2x CLV, 1x CLV

-R DL
8x Z-CLV, 6x Z-CLV, 4x CLV, 2x CLV
-RW
6x Z-CLV, 4x CLV, 2x CLV
+R
8x Z-CLV, 6x Z-CLV, 4x CLV, 2.4x CLV
+R DL
+RW
-RAM

5x CLV, 3x CLV, 2x CLV

CD
-R

24x Z-CLV, 16x CLV, 10x CLV, 4x CLV

-RW

24x CLV, 16x CLV, 10x CLV, 4x CLV

Read Speed

BD-ROM (single/dual)
6X-CAV Max
BD-RE (Single)
6x CAV Max
BD-RE (Dual)
6X CLV Max
BD-R (Single, Dual)
BD-R (TL, QL )
4X CLV Max
BD-R LTH
6X CAV
DVD-ROM (Single, Dual), DVD-R/+R, DVD-R DL / DVD+R DL, DVD-RW/ DVD+RW
8X CAV Max
DVD-RAM
5X Z-CLV Max

CD-ROM/CD-R/-RW

24x CAV Max
Random Seek Time
BD
140ms
DVD
CD
Average Seek Time
BD
180ms
DVD
CD
Buffer size
4MB
Installation position
Horizontal / Vertical
Suggested Working
Environment
Supported OS: Microsoft Windows 7,Microsoft Windows Vista, Windows XP Home Edition / Professional
CPU: Intel Core Duo T2700, Intel Core 2 Duo E6300 or greater
Memory: 1GB ABOVE
HDD space: 50 GB or above

Dimensions and weight

148 mm x 42.3 mm x 180 mm (W x H x D) 750 g
Our test unit came to our labs without any software or special commercial packaging. However, the drive comes complete in the U.S. and Japan bundled with software for disc burning and authoring. The U.S. retail package includes Cyberlink's BD software which allows users to write to BDXL media plus author and playback BD and DVD movies as well. For a limited time the BDR-206MBK also comes with a piece of TDK BD-R TL (100GB) disc, free of charge. That's a great offer since the TDK disc - the only BDXL disc currently available at the market (Panasonic, Sharp and Sony also offer TDK OEM discs and Verbatim plans to release their discs in autumn) retail for $50~$60 !
Below you see the front panel of the drive:

.
The rear panel is typical and has a power and SATA interfaces.
A new LSI has been designed in order to decode the increased data of the BD XL discs. By decreasing the size of the recorded pit on the disc's recording layer, the layer is capable of holding 33GB of data.
The new LSI is based on the Renesas R8J32730FP44 chip:
The drive uses Pioneer's high-performance pick-up unit that supports the BDXL format: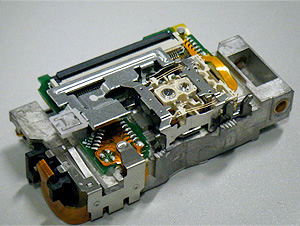 The new pick-up unit is composed of the Movable Lens, the Liquid Component and the Movable Collimator Lens. The pick up is sensitive to adjust the right and precise position when focusing on the track of the media, especially when it deals with unbalanced media, or Tilt/thickness media.
The new lens control technology is able to correct the distorted signal caused from lens' rotation direction and radius direction.
The Liquid Component is able to correct the distorted signal caused by optical system. It is also helpful to correct the bad signal caused by a twisted disc.
The Movable Collimator lens can correct the bad signal caused by unbalanced disc.
Here is some extra information about the SATA drive: