5. S.T.A.L.K.E.R: Call Of Pripyat Benchmark, Left4Dead
- S.T.A.L.K.E.R: Call Of Pripyat Benchmark
The ' S.T.A.L.K.E.R: Call Of Pripyat Benchmark' provides detailed information about a system's performance on various graphical modes. This benchmark is based on one of the in-game locations – Pripyat . The testing process includes four stages, those utilizing various weather and time of the day settings (day, night, rain, bright sun). In order to test the system thoroughly the benchmark is provided with a number of presets and options including different versions of DirectX (9.0 10.0, 11), screen resolutions, anti-aliasing etc.This makes it another one of the highly demanding games in our benchmark suite.
For our tests we set the visual details to the highest level and tested the Club3D HD 6950 1GB graphics card under DX10 and DX11 at the resolution of 1920x1200:
- DX9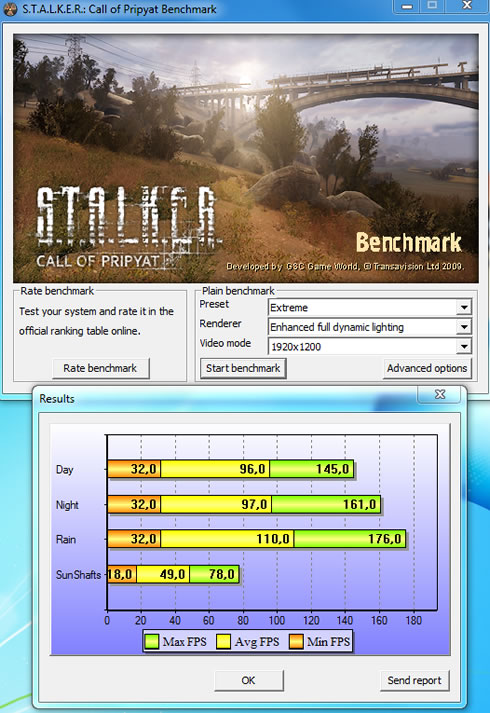 - DX10
- DX11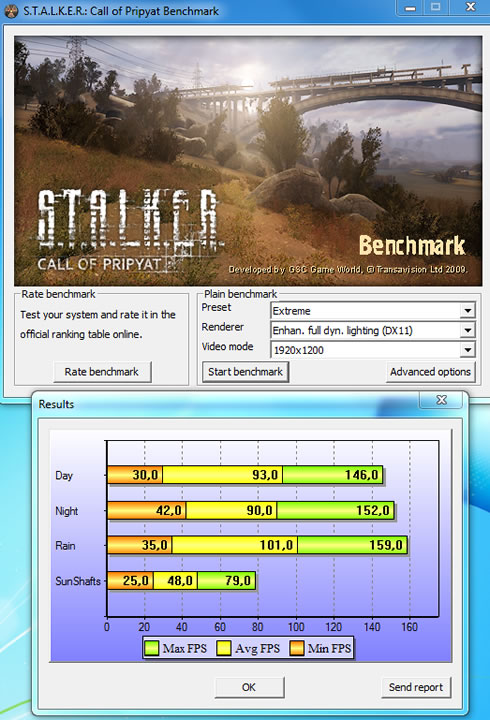 In this game, the performance of the Club3D HD 6950 could be comparable to the GTX 570 and also 10-15% higher than the 5870.
- Left4Dead (DirectX 9)
Introduced in 2004, Valve's Source engine continues to live on in new Valve games. Although this game is not very GPU limited to a significant degree we are using it in our testbed.
We used a custom time demo and measured the performance of the Club3D HD 6950 graphics card for the resolutions of 1280x1024, 1650x1080 and 1920x1200, with 16xAF enabled and all visual settings maxed out.
The Club3D HD 6950 1GB did it great here leaving behind most competitors: