6. Far Cry 2, StreetFighter IV, Unigine benchmark
- Far Cry 2 (DirectX 9/10)
Far Cry 2 supports both DirectX 9 and DirectX10 and its graphics engine is much lighter than the one the Crysis title is based on.
Under DX9, the Club3D HD 6950 1GB is slightly slower than the GTX 470 but still very close to the GTX 460 1GB: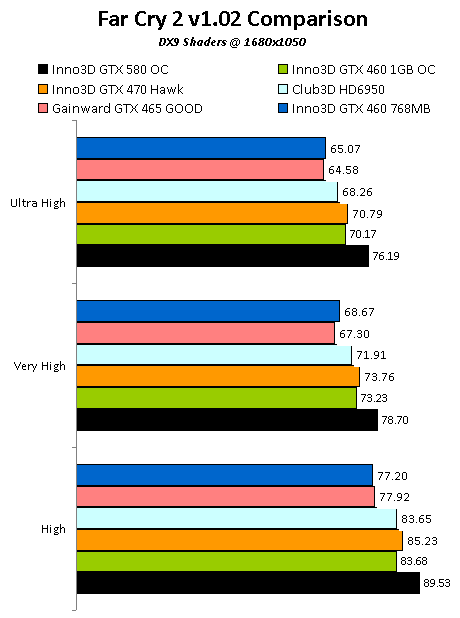 Enabling the DX10 shaders, the "Ultra high" quality settings and AA also worked pretty well for the the Club 3D HD 6950 1GB, especially with AA/AF enabled:
- StreetFighter IV (DirectX 9)
Here are two more benchmarks from the Streetfighter IV and the Unigine Benchmark Engine (DX10) demonstrating the graphic performance of the Club3D HD 6950 1GB graphics card.
At the StreetFighter IV game, the HD 6950 gave less FPS than the GT 465 and the GTX 470 with 16AA enabled, but performed great when we under 16AF: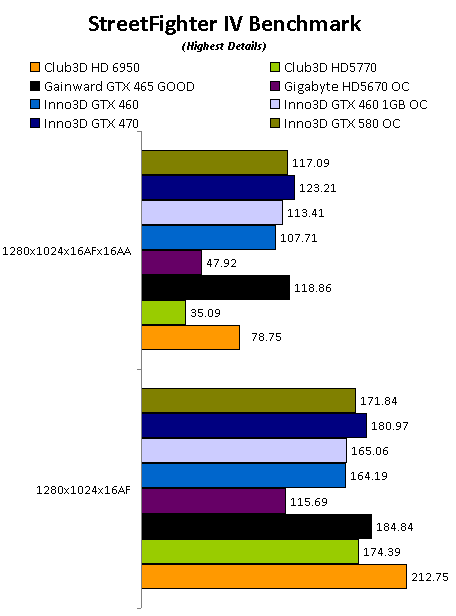 - Unigine benchmark
Unigine is a proprietary cross-platform middleware, developed by Unigine Corp. It is used as either a game engine or as an engine for VR systems. Unigine currently has support for OpenGL 4.0 and DirectX 11 It supports hardware tessellation and Screen Space Ambient Occlusion (SSAO), DirectCompute, and Shader Model 5.0.
The Unigine benchmark was easy for the Radeon HD 6950 1GB and the card performed pretty close to higher-end cards, such as the GTX 580 OC: