4. PIM, Multimedia faetures
The 8320 as a PIM (Personal Information Manager)
All your PIM needs can certainly be handled by this phone. Since this is primarily a business device (that many consumers will use) it handles calendar, address book, tasks, memos and attachments with ease.
The Calendar program is very easy to use and quite powerful. It easily Syncs with either Outlook or most other popular programs and it can import your data from a .csv or tab delineated format. It was easy to navigate to the date wanted with the trackball. Click the trackball and you can easily navigate down to put in the subject of the appointment, change the date, time, duration, set alarms and set recurring appointments.
The address book can also import your information from Outlook or other programs and can also import Vcard files. I found that it even imported the pictures that I used with my contacts from Outlook. One of the nice features of the BlackBerry address book is the ability to highlight your contact, then push the menu key and scroll to send them an SMS message, email them or call them. The BlackBerry software makes these tasks very intuitive. Contextual help built into each application can also guide the user through the various tasks and capabilities.
Tasks and memos can also easily be imported and were easy to use on the Curve. The nice amount of real estate on the screen and the bright, self adjusting light of the screen coupled with clear fonts made reading memos and tasks quite nice. One nice feature found on the Curve (as well as other newer Blackberries) is Voice memos. it is so easy to just record a message and send it to a contact. They receive a simple .wav file which most other phones can open easily.
The BlackBerry Curve is capable of viewing attachments in most formats - PDF's, Spreadsheets, Document and Power Points (albeit scaled down) but it cannot edit these files or open them in any other form than from attachments. For most business users, this is adequate functionality. On the horizon is Documents to Go for the BlackBerry which, if priced similarly to the Windows Mobile version, will take the BlackBerry world by storm.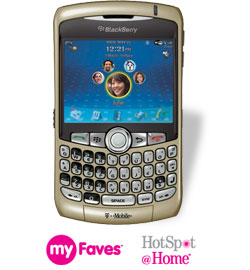 Multi-Media Features:
The 8320 is much more of a "Media Centric" device that the 8800 and it has better Media features than the Pearl. This version of the 8320 was linked to T-Mobile media services which are somewhat paltry compared to AT&T and Verizon. A click on the main "Media" icon brings up a nice media screen with easy navigation between Music, Video, Ringtones and Pictures. Music sounded crisp through the Curve and the standard 3.5 mm jack makes plugging in your headphones a snap. You will want to think about using a combo Earphone/Microphone setup since you can take calls while listening to music
There is an icon on the 8320 for T-Zones which is for shopping games, tones, music and graphics. Music sounded really good. Downloading the new Flipside MP3 player allowed me to have cover art and use an iPod like "Cover Flow" system for navigating my music. What is even cooler than that is that the Curve supports A2DP - Streaming Bluetooth Stereo. So, you can stream music and listen through Bluetooth Stereo Headphones (look ma, no wires.)
Music can be loaded using the desktop manager software onto the Micro SD card (to save space) into the Music subdirectory. Simply navigate to the music and play a single song, play all of your music, shuffle your songs and even show the playlist on the screen. Music is arranged by songs, artists, genres and you have the ability to shuffle your music as well. There are no audio controls except for volume - but music sounded very good on the Curve - certainly rivaling the sonic quality of pretty much any MP3 player.
The 8320 ships with a sample video which was remarkably smooth. Getting my own videos to play was another matter altogether. While the Curve does support several different video formats, most videos had to be converted to work properly on the Curve. Fortunately, unlike the older versions of the Pearl and 8800, the 8320 now comes with a Media Manager desktop program based on Roxio's Media Manager software. There are options for Video conversion built in which made life much easier than on the Pearl and the 8800.
The Camera in a 2.0 Mega Pixel design with flash and a multitude of photo settings available. Overall picture quality was about what you would expect for a typical 2.0 mega pixel design.
Assigning your MP3's as ringtones was very easy, provided you have the song copied in the "Ringtone" folder on either the Micro SD card or the device itself.
There are many free games, however, which can be downloaded from the BlackBerry Help bookmark in the web browser. I found Solitaire, a fishing game and several others which were easy to install, fun to play and looked great on the BlackBerry screen.